District Online Learning and Meal Program
Jeffrey Greenley
Thursday, March 19, 2020
March 19, 2020
Dear Belpre City families:
Thank you for your patience and for your support while we have worked to get additional guidance out about how we will serve your student in the weeks ahead. Many of you have reached out to offer help and we are so grateful to the PTO for fundraising money to provide meals to students this week while we worked to secure USDA funding. We are ready to make the following decisions that will be in place through April 7, 2020:
Starting on Monday, March 23, 2020 we will begin serving meals to students at 11 different sites across Belpre. Please see our flier for more details. These meals are free to all under the age of 18, regardless of income level. Each day we will distribute a lunch and a breakfast for the next morning.
Next week (the week of March 23, 2020) is blizzard bag week. Each student has three days of assignments that should be completed next week. We ask that you please submit the work directly to the teacher either by scanning it in or emailing cell phone pictures. Email addresses are available on our website. We know that there may be some families that do not have access to the internet at this time. Internet is available at our buildings and the WIFI extends into the parking lot. In addition, Spectrum and Sudden link have both announced plans for families of K-12 students for 60 days of free internet. We know that it may take a few days to get service so we will offer a limited number of paper packets to students. Students who need a paper packet can request one on Monday, March 23 when picking up a meal at either the building or one of the meal drop locations. They will be delivered the next day.
We will issue Chromebooks to students that do not otherwise have access to a computer so that they can complete assignments. We will issue one Chromebook per family for use during the public closure of our buildings. If your student needs a Chromebook they will be issued next Tuesday, March 24 at Belpre Elementary and next Thursday, March 26 at Belpre High School from 11:00 – 1:00.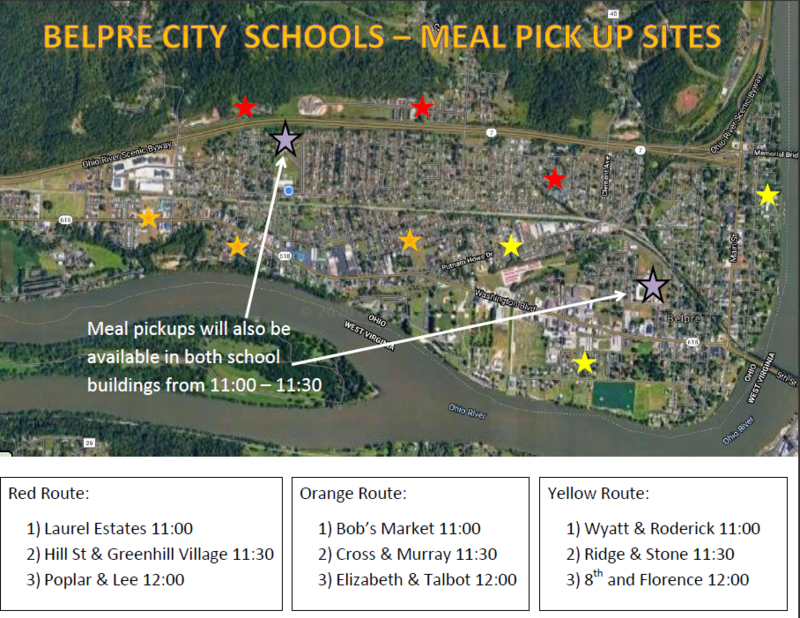 We will begin online learning for students on March 30, 2020. We will provide more detail next week.
This is a rapidly evolving situation and we will keep a close eye on CDC guidelines as well as Governor DeWine's directives which could require us to make a course correction. Please continue to practice good hygiene and practice social distancing as we all try to flatten the curve and ensure that we have the available hospital space that people may need in the event of a spike. Parents please talk with your children about the importance of washing their hands and following the guidance so that we can protect the most vulnerable members of our community. We have you and your children on our minds and in our hearts at this time and will do all that we can to nourish their minds and bodies and support your family. Please contact us at the Central Office if you have any questions or if there are other needs that we can help meet.
Respectfully,
Jeffrey S. Greenley
Superintendent
Belpre City School District