EDIT MAIN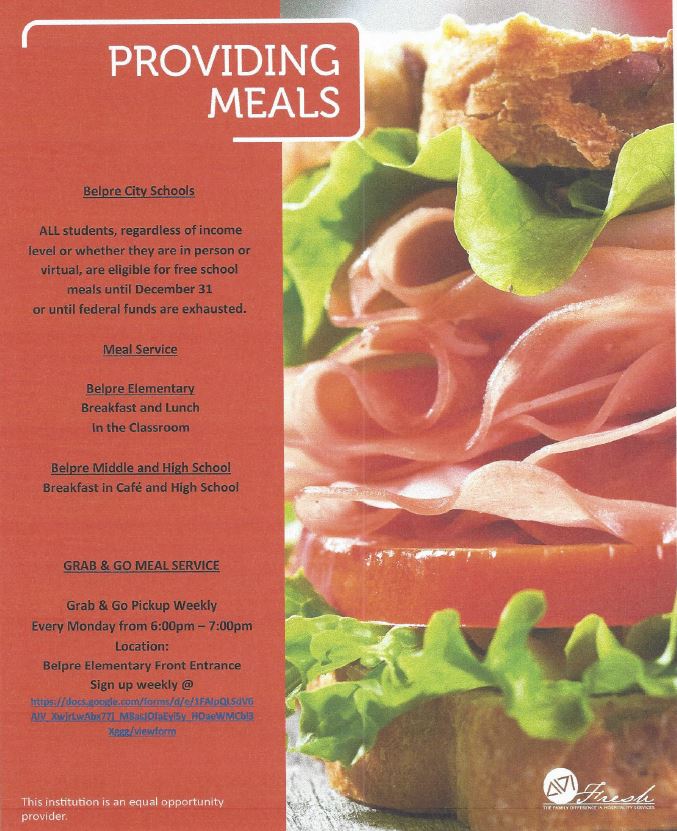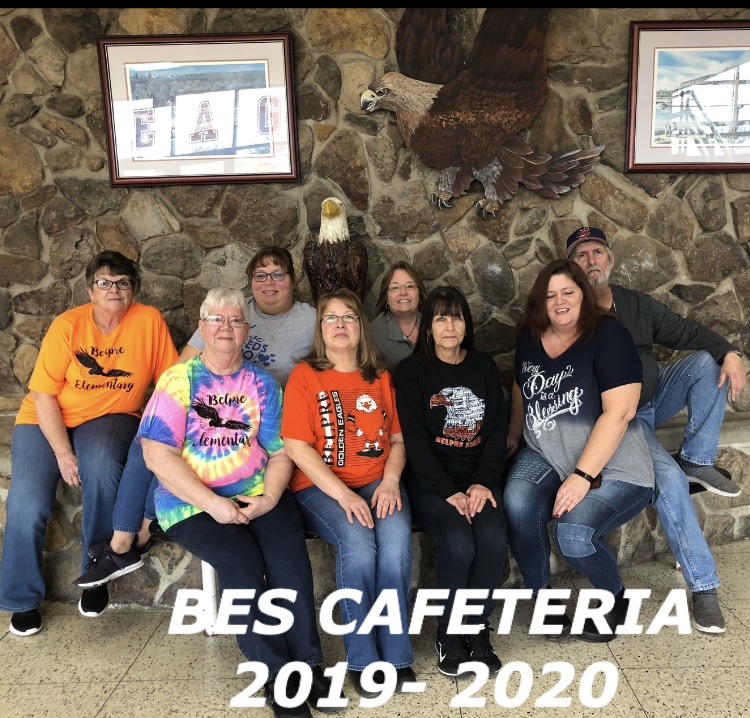 Cafeteria Staff 2018-2018
Lunchroom News
*******Virtual learning students may order meals weekly from the school. If your family is eligible for free or reduced meals, or if you would like to order and pay for a week's worth of meals, please complete this order form https://forms.gle/jGQdgtRpDb9Ce3Fm9 by noon on Wednesdays. Those that order can pick up a week's worth of meals at Belpre Elementary School on Mondays from 6:00 - 7:00. Please call Kimmy O'Donnell with any questions at 740-423-3010, ext. 504.****

LUNCH IS $2.85 PER DAY at the Elementary and $2.95 at the HS.
Adult Lunch $3.55
BHS Entree $2.10 BES Entree $2.00 Sides $.75 Milk $.75
Breakfast is FREE for students K-12
Breakfast for Adults $2.15 and Adult Lunch price is $3.55

Paying On Line! Belpre City School Food service provider, AVI Foodsystems, is offering a NEW online program at PayForIt.net. You may pay for your child's lunch or check their account balance on line. PayForIt.net allows you to create a secure online account with your Visa, Master Card or ACH Electronic Check.
Click here to go to the PayForIt.net web site and set up your student's account.
Other options to put money on your student's account:
Write a check to Belpre City Schools; please write your child's full name in the note section of the check.
Send cash in an envelope with your child's full name printed on the outside of the envelope.
If you would like to check on your child's lunch account balance, please call Kimmy at 423-3010, Ext. 406.
NO CHARGES WILL BE ACCEPTED
If your student doesn't have money by lunchtime, we will still offer them a cheese sandwich, fruit, vegetable and milk.
If you have any questions, please feel free to call me at 423-3010 x406, or the Foodservice Director, Jennifer Currey, at 423-3010 x406.
Thank you!
Kimmy O'Donnell, Cafeteria Manager
Want to discuss school meals? Join the Food Committee. This committee will meet 4 (four) times this year; students, parents, teachers and administrators are welcome. If interested please call Kimmy - 423-3010 ext 406.

Breakfast Times are:
BE - 7:40 am
BHS- 7:30 am
This institution is an equal provider.
The school's Wellness Policy 8510 is available to view on the school website under the Board of Education Policies. If you would like to comment on this policy PLEASE email bc_kodonnell@belpre.k12.oh.us
Please click here for menus
Belpre City Schools today announced its 2019-2020 program year policy for free and reduced price meals for students unable to pay the full price of meals or milk served under the National School Lunch and School Breakfast, After School Care Snack or Special Milk Programs. Each school office and the central office has a copy of the policy, which may be reviewed by any interested party.
Free and Reduced Form 2020-2021