Board Retreat - Creating the Portrait of A Graduate
Jeffrey Greenley
Monday, September 30, 2019
Board of Education Crafts Draft Portrait of A Graduate
After completing a book study on the book What Schools Could Be and facilitating over 10 community meetings to gather public input, the Belpre City Schools Board of Education held a retreat at the Belpre Municipal building this past weekend. The Board spent most of Friday afternoon interacting with students, community members, administrators, teachers and support staff to better understand the current state of Belpre City Schools and build consensus on the future direction of the district.
That evening, the Board worked with teacher leaders through a series of activities to better understand how students grow in their ability to communicate, collaborate, critically think and be creative (together known as the 4C's).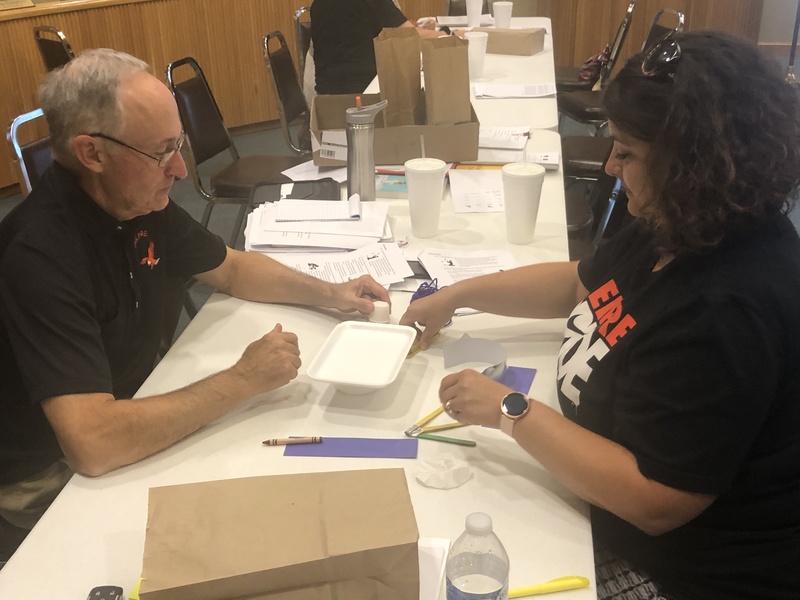 On Saturday, the Board of Education worked with administration for several hours reviewing the City's economic development plan, demographic information provided by the Belpre City Church of Christ and stakeholder input captured during previous meetings. After a great deal of discussion the Board of Education is pleased to present its draft Portrait of A Graduate:
Critical Thinkers with Integrity
BELPRE GRADUATES:
Consistently improve the quality of their own thinking by skillfully analyzing, assessing, and reconstructing.
Apply disciplined thinking that is clear, rational, open-minded, and informed by evidence.
Make decisions based on evidence and synthesize disparate pieces of information to make a new conclusion relevant to the task at hand.
Understand the "bigger picture" and propose solutions that are mindful to the impact they may have on other parts of a system.
Choose honesty and transparency in all things; show respect to everyone; are humble and reliable.
Adhere consistently to a set of core values that are evident in choices and behaviors.
Earn others' trust and respect through honest, principled behavior.
Empathetic Communicators
BELPRE GRADUATES:
Articulate thoughts and ideas effectively using oral, written, and nonverbal communication skills in a variety of forms and contexts.
Listen effectively to decipher meaning, including knowledge, values, attitudes, and intentions.
Use communication for a range of purposes and audiences (e.g. to inform, instruct, motivate, and persuade).
Leaders and Collaborators
BELPRE GRADUATES:
Use sound judgement, initiative, dependability, loyalty, pride and sense of responsibility.
Are visionary and inspire positive action in others.
Recognize, invest in, and leverage strengths to build collective ownership and action.
Build relationships with others through trust and compassion.
Honor and leverage strengths to build collective commitment and action to solve a problem.
Seek, contribute, and respond to feedback to achieve collective outcomes.
Elicit diverse perspectives and contributions.
Creative
BELPRE GRADUATES:
Show originality, imagination, and new ways of thinking about things.
Transcend traditional ideas, rules, patterns, and relationships to create new or meaningful ideas, methods, or interpretations.
Synergize creative processes with collaboration, communication and critical thinking to create.
Hopeful
Our students:
Know what they want to achieve and believe that they have the power to make it happen.
Understand that there are multiple pathways to reach their goals and optimistically take risks and persevere through challenges along the way.
Fail forward.
Goal-Oriented
Our students:
Set SMART goals and strive to reach them.
Hold themselves accountable and take ownership of the outcome.
Work effectively in a climate of ambiguity and changing priorities by creating clear goals and working diligently to complete them.
---
We would welcome any feedback on this draft and are actively scheduling with community partners to meet during their regularly scheduled time to seek feedback before the Board adopts the final product in December. If you have any suggestions or if you would like to schedule a time for the Superintendent to come and speak with your organization about the Portrait of A Graduate please email us here.