I recently conducted a site visit of West Lake Middle School along with several other school districts that are collaborating on how to bring their individual Portrait of A Graduate to life within their district. It was a wonderful morning that allowed me to not only experience how that school has integrated 21st century skills into their curriculum but also take a look under the hood of a recently constructed 21st century school facility.
First a few demographics to help get some perspective: West Lake Middle School serves about 1200 students (more than our whole district!) in grades 6-8 and is located in Humble, TX. Only around 8% of their student population is served with an IEP. Their school district has identified the following portrait competencies to focus on: communicator, global citizen, critical thinker, creative innovator, leader and collaborator, and personally responsible. Their building is only about 18 months old. They have a diverse student body with about an equal number of white and Hispanic students as well as several other groups of minority students.
The Facility
I want to first focus on what I observed about the construction and lay out of the building helps to facilitate 21st century learning. This panorama shows a couple classrooms and the flexible learning space available to students:

You can see that all of the classrooms in the building have natural light on one side and glass on the other leading into the hallway (you might not be able to tell, but there is also a curtain on each side that can be pulled if needed or in the event of an emergency situation on campus). The classrooms that we visited were buzzing with groups of students collaborating together in the classroom or in the hallway. The glass walls into the hallway are all "writable" for students to use to work on and each classroom had a dedicated wall as well that was all covered with white board material for student work. Some classrooms also had white board collaborative tables for students to use at their desks. Each classroom and flexible space offered different things in terms of where students could sit or work: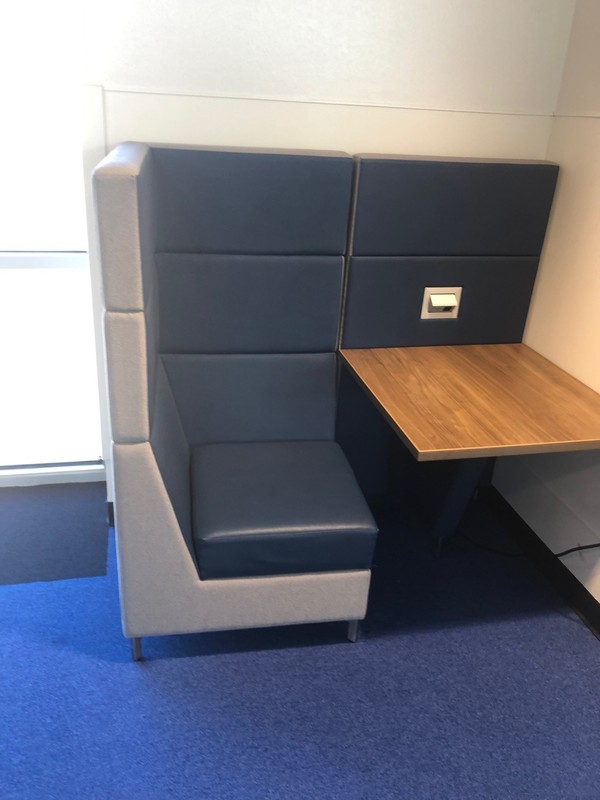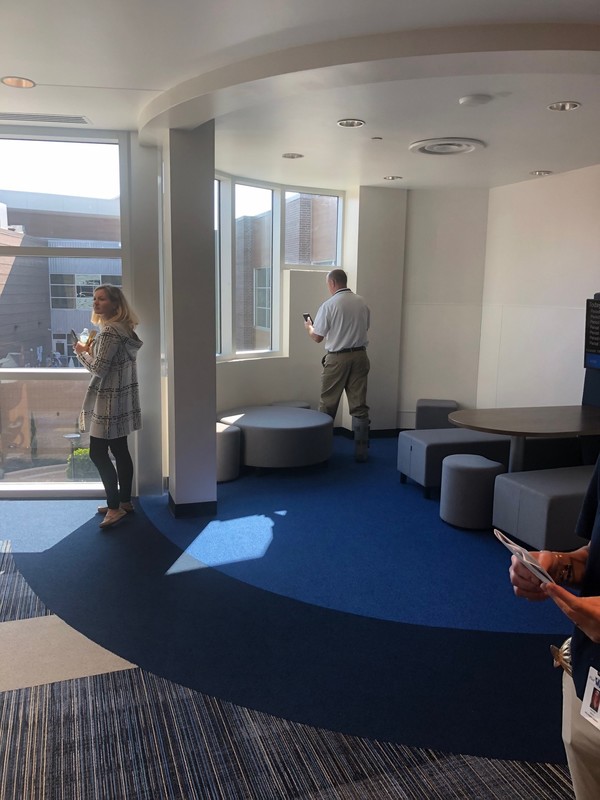 There was a tremendous amount of natural light in the building. Although the building was beautifully polished, the photos below will show that they left some portions "unfinished" where students could see how the piping worked or insulation to spark a little curiosity. The cafeteria offered several different types of seating as well.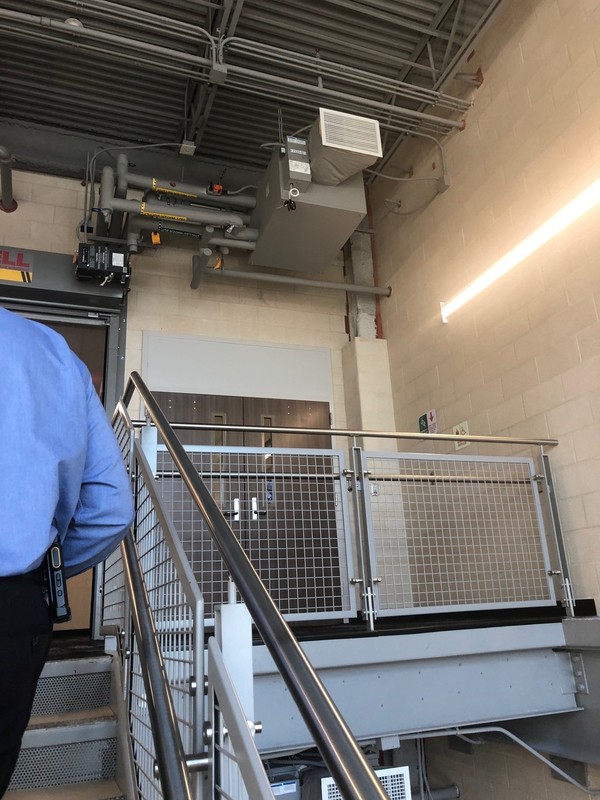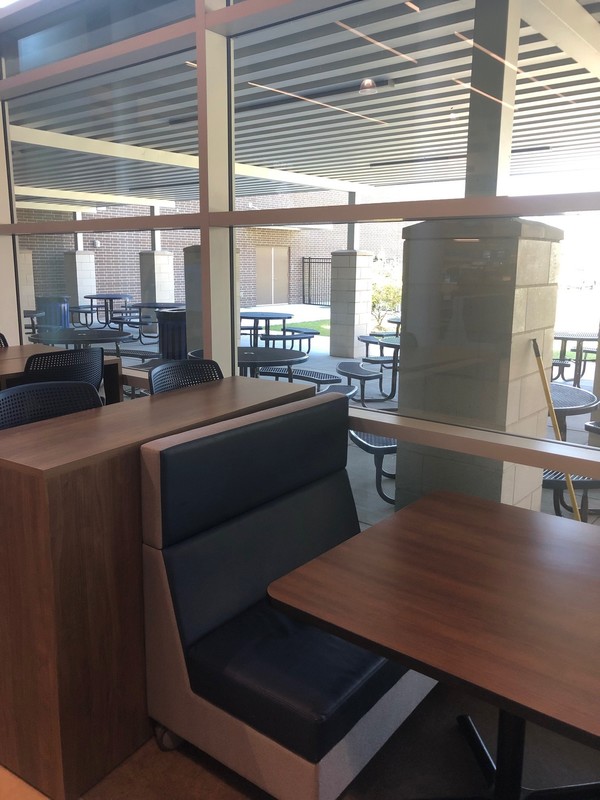 It was a beautifully designed building that I think makes a great connection between 21st century skills and the physical space needed to have those types of interaction occur.
Performance Tasks
In addition to observing the physical layout of the building, we also got to observe the Performance Tasks that were going on within the building that day. West Lake's curriculum includes one or two Performance Tasks per semester for students to apply what they've been learning. 6th grade students were working on speed, acceleration and other concepts of physics and constructed roller coasters for marbles. The 7th grade class was studying history and created native american facilities and other projects. I had the chance to observe the 8th grade students who had designed rockets. The 8th grade students seemed elated to be outside testing the designs of their rockets as well as the amount of propellant that they used. While the science students tested their designs, math students from another class used protractors and a stop watch to calculate the height of the rockets. A journalism or yearbook student (I didn't get a chance to ask) was observing the activity and taking pictures for a story she appeared to be working on. The launch stations that they were using were constructed by their engineering elective course.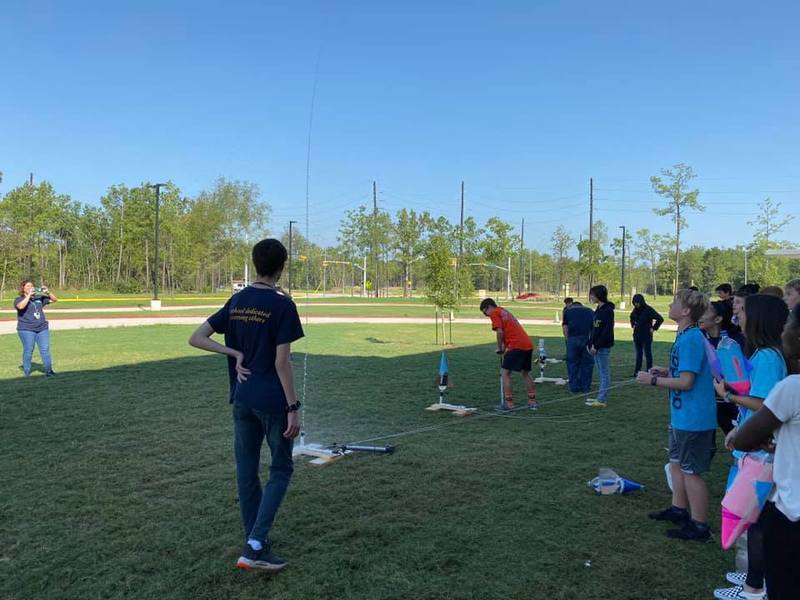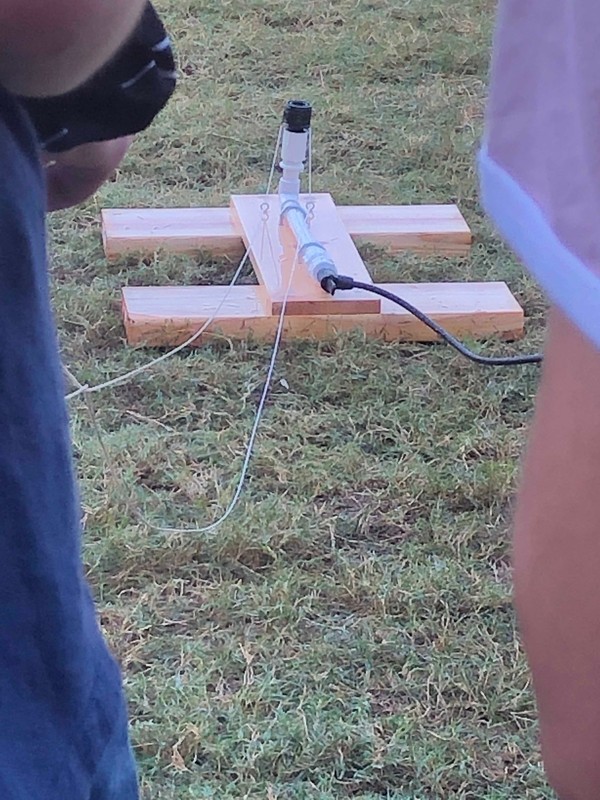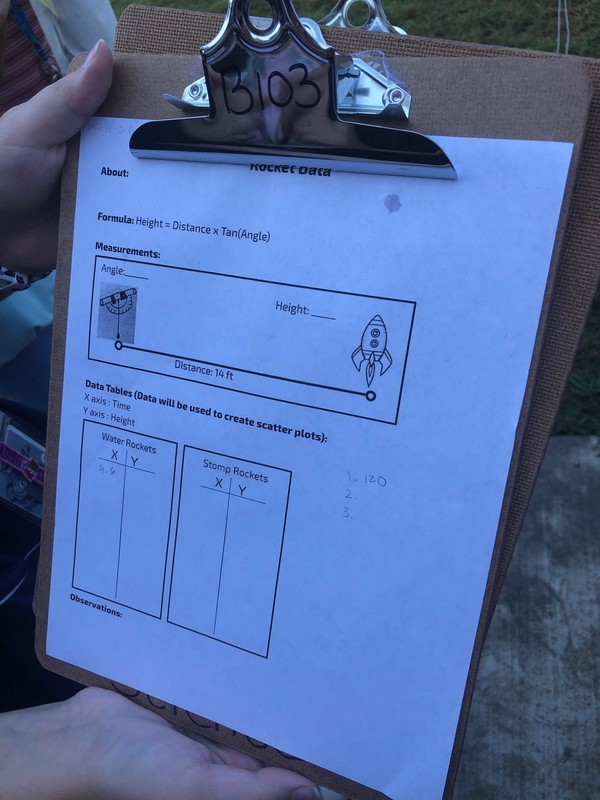 A question that I still have as I reflect on my time there is how, if at all, they were assessing the portrait competencies that day. Did they have some sort of rubric that teachers were using to observe how well they worked together or if they were able to synergize concepts from a peer? One of their competencies is creative innovator; was there any way to measure how students were progressing in that domain? Or do they do something more broad in their district to just collect artifacts of student work and at the end show the progression that way in a reflective process rather than something more defined during each activity? Tony Waggoner spoke during the event and reminded everyone that if this is the type of work and competencies students should be working on (which he agreed it was) then we have to find a way to assess it otherwise it won't stick.
As we continue to discuss Belpre's own Portrait of A Graduate I hope that West Lake's approach can help to further communicate the importance of identifying what skills and dispositions, in addition to content, that we want our students to master while they are with us. The decisions that teachers are making in the way that they deliver and assess content are intentionally incorporating their portrait competencies and are ensuring that students get consistent at bats in critical thinking, communication, leadership and collaboration as well as the other things they and their community identified as the most critical for their school system. At the same time, I cannot understate how important the physical design of their building is to fostering these mindsets and dispositions. The seating, design and aesthetic of the campus invited curiosity and called to students to use any of several different spaces to collaborate with their friends. Our students are just as capable as any student in any school district and will thrive as we work together with our community to identify what we want students to know and be able to do and align our system (including our physical campus buildings) to make that dream a reality.