Thanks to the Nina M. Lowey 21st Century Community Learning Center grants administered by the Ohio Department of Education, Belpre City Schools is excited to announce that it was awarded a federally funded grant program to support high-quality, out-of-school learning opportunities and related activities for students at Belpre High School in grades 7-12. This was a competitive grant program and Belpre City Schools is pleased to have been awarded $850,000 in grant funds over a five year timeline.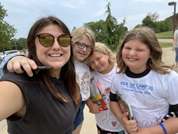 "We are very grateful to have worked with our local schools to write competitive grant applications for afterschool programming. We are very pleased to announce that this effort resulted in one new award and seven continuing awards from the Ohio Department of Education," said Jo Ellen Sherow, program manager of Kids on Campus. "These grants will serve children in five local school districts (Alexander Local, Athens City, Belpre City, Federal Hocking Local, and Southern Local Perry County) in the coming years. We are extremely excited about our new partnership with Belpre City Schools in Washington County. We will be able to offer our program to 7th through 12th grade students in this district. This marks the first time in our 25 year history that Kids on Campus will operate in Washington County."
Kids on Campus is based in Ohio University's College of Health Sciences and Professions and is a rural community-university partnership serving the underserved in Southeast Ohio including at-risk children. Programming for Kids on Campus is completely funded by donations and grants.
"Now, more than ever, our students need additional opportunities to connect with one another and additional academic support," said Superintendent Jeffrey Greenley. "After school programming will allow us to not only support student achievement but also provide additional clubs, programs and co-curricular activities to deepen student engagement and help our students master the competencies in our Portrait of a Graduate. We are excited to see this program take flight!"
These grants will allow Belpre High School students to receive after school support, enrichment and activities four days a week as well as evening bus transportation home each day beginning in mid-October. We will be announcing additional information in the near future.