Thank you the the Belpre Area Veterans for supporting the Belpre XC Meet today with their wonderful color guard. Your support and presence set the tone for the day - thank you each for your service.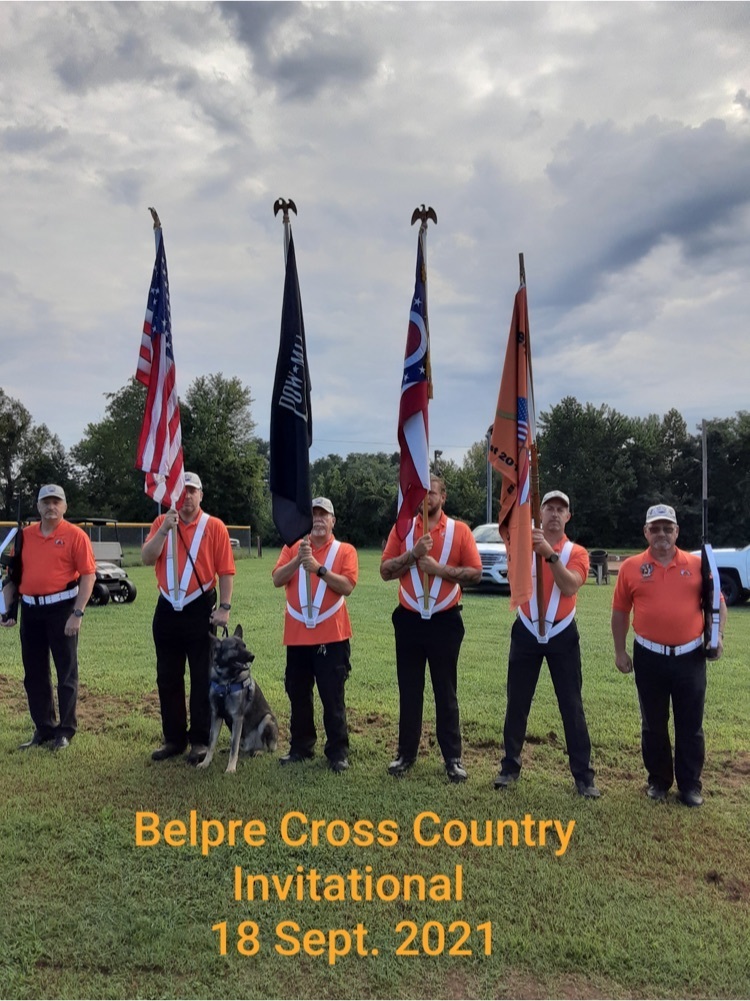 Belpre High School ICU Lifeguard Mr. Tyler Leasure takes saving students' grades VERY seriously!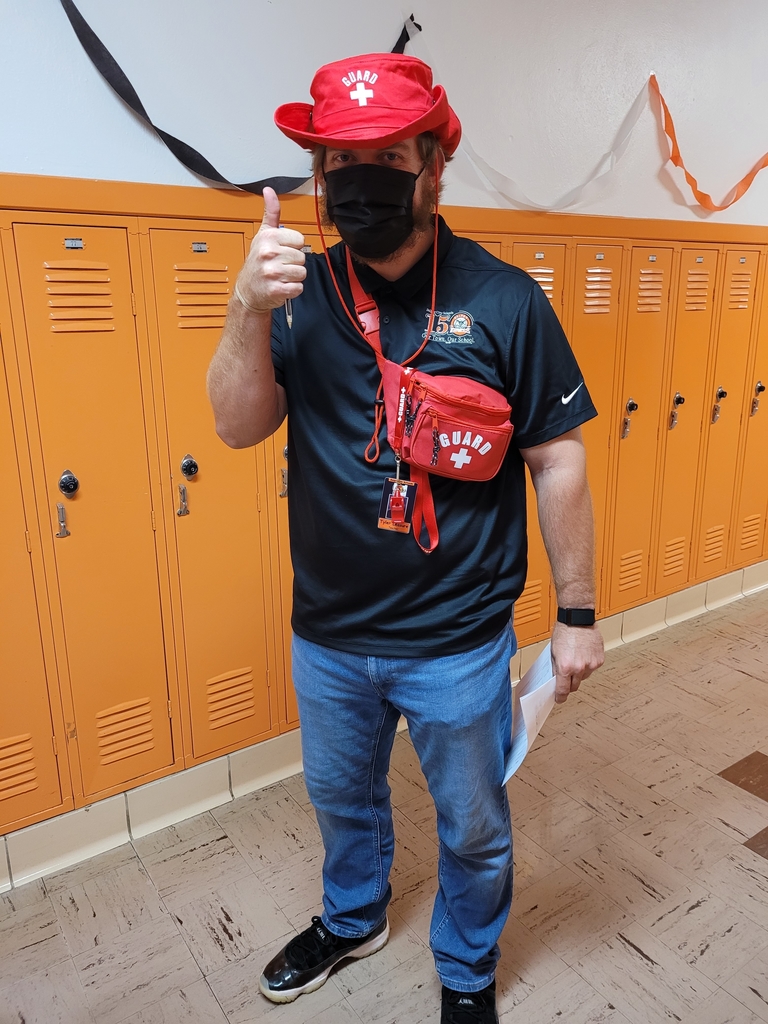 In honor of National Suicide Prevention Month the student service department of Belpre City Schools would like to offer a resource for teachers and parents. The attached article provides information and resources for families and educators including warning signs and tips for initiating a conversation. Suicide continues to be a stigmatized, and often taboo, topic. The student service department offers this resource to promote awareness and provide access to resources needed to discuss suicide prevention and/or seek help if needed.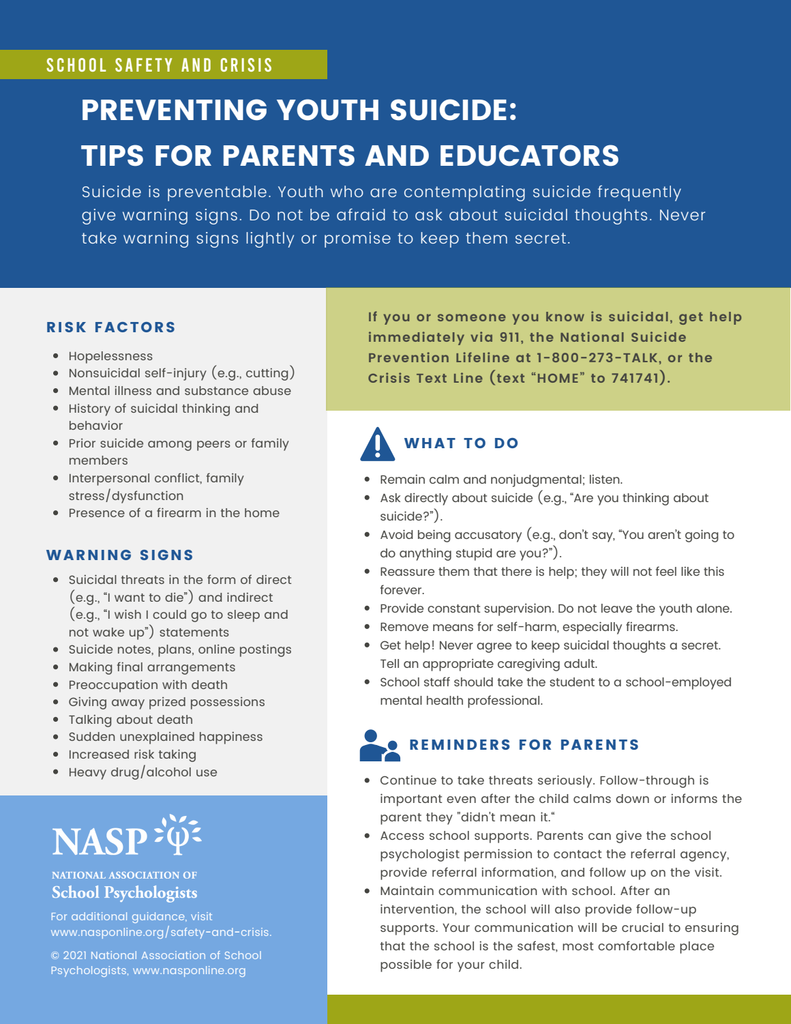 Belpre City Schools is excited to announce it has been awarded $850,000 in federal grant money for after school services for Belpre High School students in grades 7-12. We will be partnering with Ohio University to offer this service which will begin in mid-October. More information to follow - read about it on our website at
https://www.belpre.k12.oh.us/article/536613
.
Powder Puff Football "Mark your calendars for one of our biggest and most exciting events at Belpre High School: the Powder Puff football game! We have had a change of dates. The game will now take place on Wednesday, October 13th at 6pm at the High School football field. The cost of attendance will be $3 for observers and free for participants. Concessions will be available as well. We hope to see you all there!"

Congratulations to the Boys and Girls Cross Country Teams for their performance at the Wildcat Classic Invitational this weekend at Indiana Wesleyan University. Sophomore Blake Rodgers placed 11th overall in a very competitive field, Senior Maddie Sprigg placed 28th in her race and the Boys' Team finished 11th overall in the Gray Race. Several members of the team recorded new personal bests in the competition.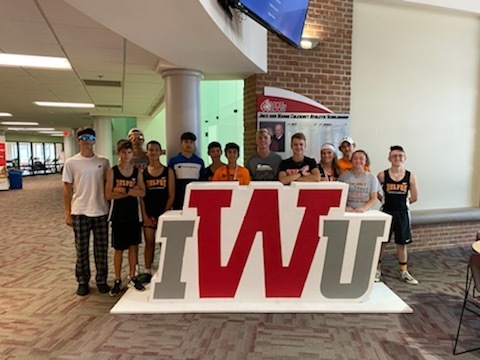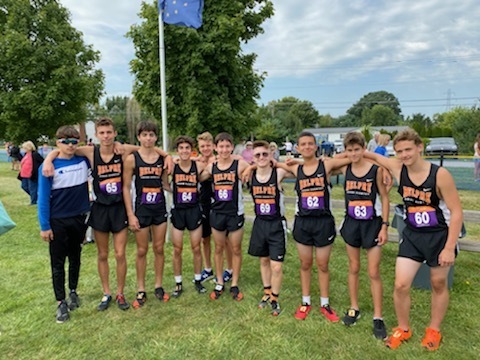 Please join us for our 2nd School Facilities Community Meeting on Tuesday, September 14, 2021 at Belpre Elementary School beginning at 6:30. We want to hear directly from you while we contemplate the current state of our school facilities and future needs. Please visit our website to learn more and see the slides and information collected during our first meeting.
https://www.belpre.k12.oh.us/page/school-facilities-plan
We hope to see you there!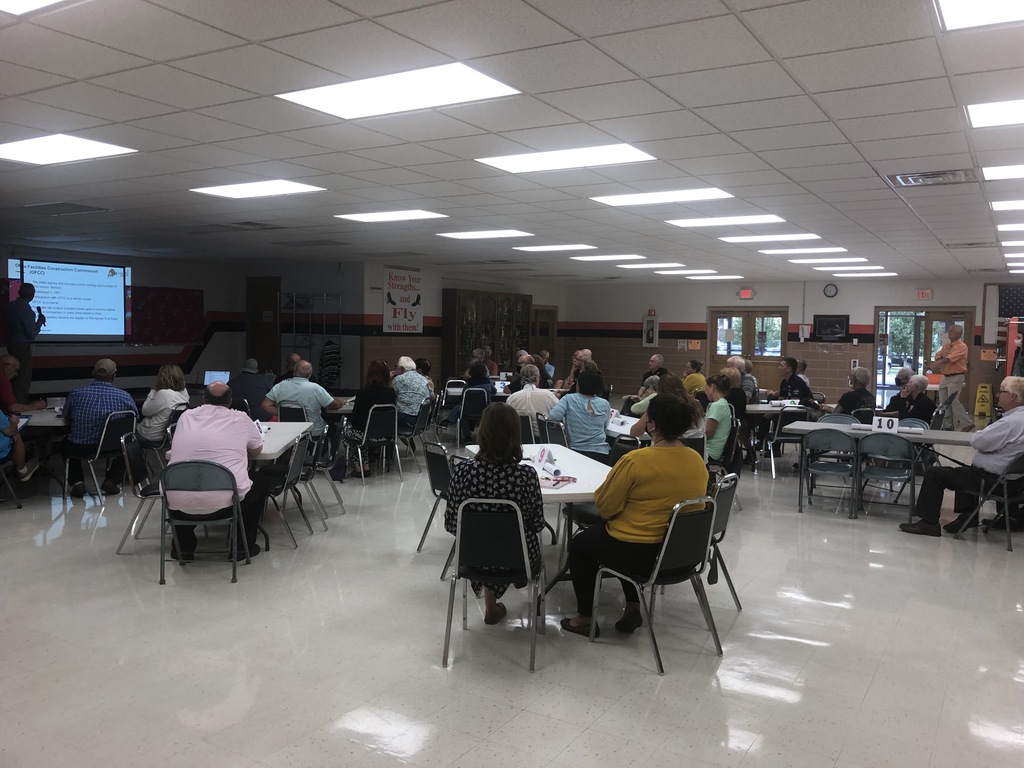 Today we would like to introduce Mr. William James, our new ninth grade English and Speech teacher! Mr. James graduated from Ohio University with a Bachelor's Degree in English, a Masters Degree in Business Administration, and a Masters Degree in Education. He has two years of teaching experience at Eastern Local Schools, where he taught 9-12th grade English Language Arts, Speech and Drama. When asked why he chose to teach, Mr. James stated that he worked in finance prior to becoming a teacher. He went on to say that teaching children was a dream of his, so he quit his job in finance to pursue what he really wanted to do! Mr. James is beyond excited to work in Belpre City Schools and is looking forward to getting to know the students and staff. We heartily welcome Mr. James to Belpre, and we can't wait to see him live out his passion for teaching in our school building!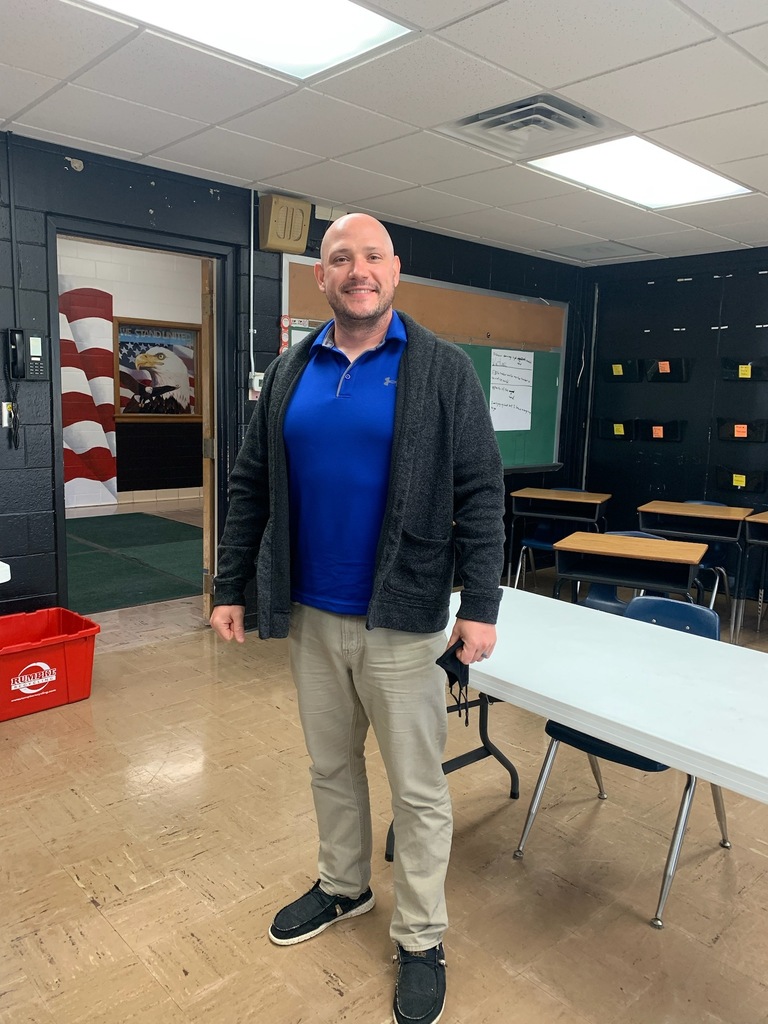 Reminder that traffic at the Middle School and High School campus will move in a one-way pattern before and after school. Cars should enter along the football field and either turn around at the corner or drive through slowly and exit onto Stone Road. No student or parent cars should park in the area by the band and weight rooms. We need everyone's help to make morning and afternoon traffic move more safely!
This week we would like to introduce our new Speech-Language Pathologist, Allison Ferrell! Allison will be providing speech and language treatment and evaluations to our K-6 students. Mrs. Ferrell is a 2013 graduate of our very own Belpre High School! After graduation, Mrs. Ferrell furthered her education at Ohio University where she obtained a Masters of Arts degree in Speech-Language Pathology. Mrs. Ferrell completed her externship at Eastern Local Schools and participated in 'Camp Rock,' a summer camp for children with autism. When asked about her teaching philosophy Mrs. Ferrell stated, "In my practice as an SLP, I aspire to help students become effective communicators and provide them with the proper resources and attention they need to grow into confident, functional adults." She went on to say that she is beyond happy to be back at Belpre where there are some familiar faces! Mrs. Ferrell is located in the room right beside the door to the library in the Elementary School. She would be happy to have you stop in and introduce yourself! Mrs. Ferrell is an excellent addition to our Student Services Department and we have no doubt that she will prosper here at Belpre Elementary!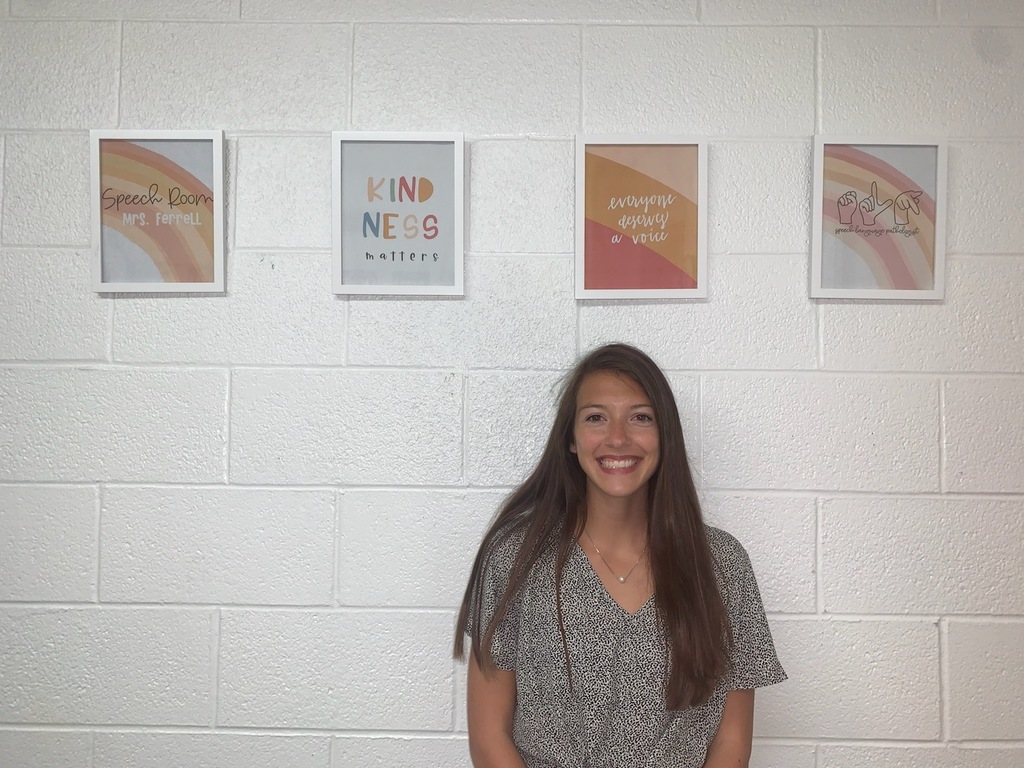 Please click the link for an important announcement regarding Belpre City School's ongoing effort to mitigate COVID-19 in our school district.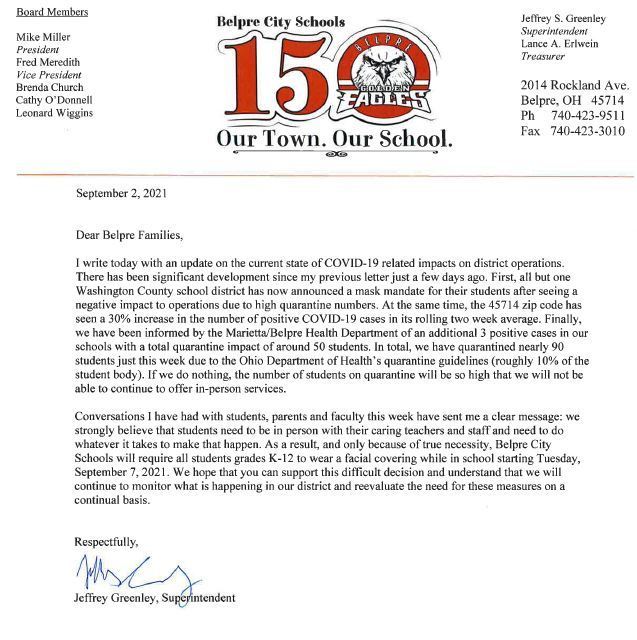 It's a big night for Belpre Football - and every student in the Belpre City School District is invited to attend the game for FREE! Commonwealth Financial Services is kindly sponsoring admission for every PreK-12 student in the district at tonight's game. Students and families are also invited to join the tunnel at the beginning of the game to cheer on the team and show their Belpre pride! Be sure to show up and support the Belpre Eagles as they take on the Alexander Spartans tonight at 7:00 p.m. Go Eagles!
This week we are delighted to introduce Mrs. Mary Ann Hughes! Mrs. Hughes will be teaching 7th and 8th grade ELA along with two high school courses. One of her high school classes will focus on the book titled '7 Habits of Highly Effective Teens.' The other class is titled 'Brain Games,' which is a semester-length elective course. During this class, the students will actively engage in board games such as chess, checkers, Clue, Scattergories, Kahoot, etc. Both of these courses are aimed to stimulate and encourage higher level thinking, challenges and strategies. Mrs. Hughes has also eagerly taken on the role of faculty advisor for the Junior High Student Council. Mrs. Hughes's first day with us was August 11, 2021, when she participated in our new staff orientation and professional development days. Mrs. Hughes graduated from Ohio University in 1991 with a Bachelor's degree in English and Math Education. She then furthered her education at Grand Canyon University, where she received a Masters Degree in Administration. Mrs. Hughes comes to us from Logan, Ohio where she has 20 years of teaching experience at Logan Hocking Schools. She also has 8 years of experience at the Performance Academy in Columbus, Ohio. Mrs. Hughes participated in the Delaware Educational Support Center Mentor Training five years ago. Over the course of those five years, Mrs. Hughes has mentored twelve people, seven of which passed the Resident Educator Program on their first attempt! When asked about her teaching experience and philosophy, Mrs. Hughes eagerly stated that "her focus is on producing lifelong learners." She went on to say that she believes all children are capable of learning and that hands-on teaching methods are her go-to! She believes that building relationships is a core part of her teaching philosophy, along with encouraging a higher level of thinking from her students. Mrs. Hughes is located in the Lawton Building, room 204, where she invites you to come in and introduce yourself. We are thrilled to have Mrs. Hughes here at Belpre and we look forward to seeing her positive impact on our students!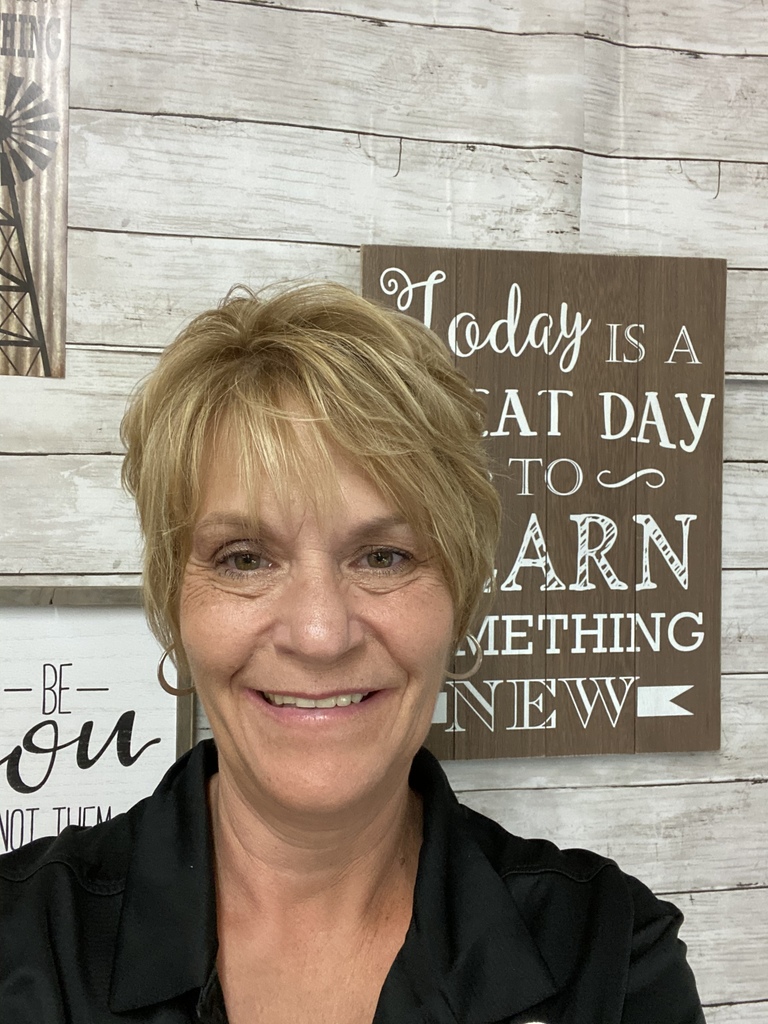 New traffic pattern for the HS/MS campus This message is for all families and student drivers in grades 7-12. Beginning immediately, traffic along Third Street (between the Lawton and high school buildings) will follow a one-way traffic pattern. If you are dropping your student off or planning to park in front of the practice soccer and band fields, please enter from the football field side of campus. Drop-offs will be directed to turn around at the end of the road, while those who are parking will be directed to proceed through. When picking your student up after school, please pull into a spot facing the football field and Lawton lawn, and your student will walk to your car. Additionally, there is to be no parent or student parking in the area between buildings near the football gate.

Belpre Families: We have an important update for Belpre City families regarding COVID-19 rates in our school district available at
https://5il.co/y5ma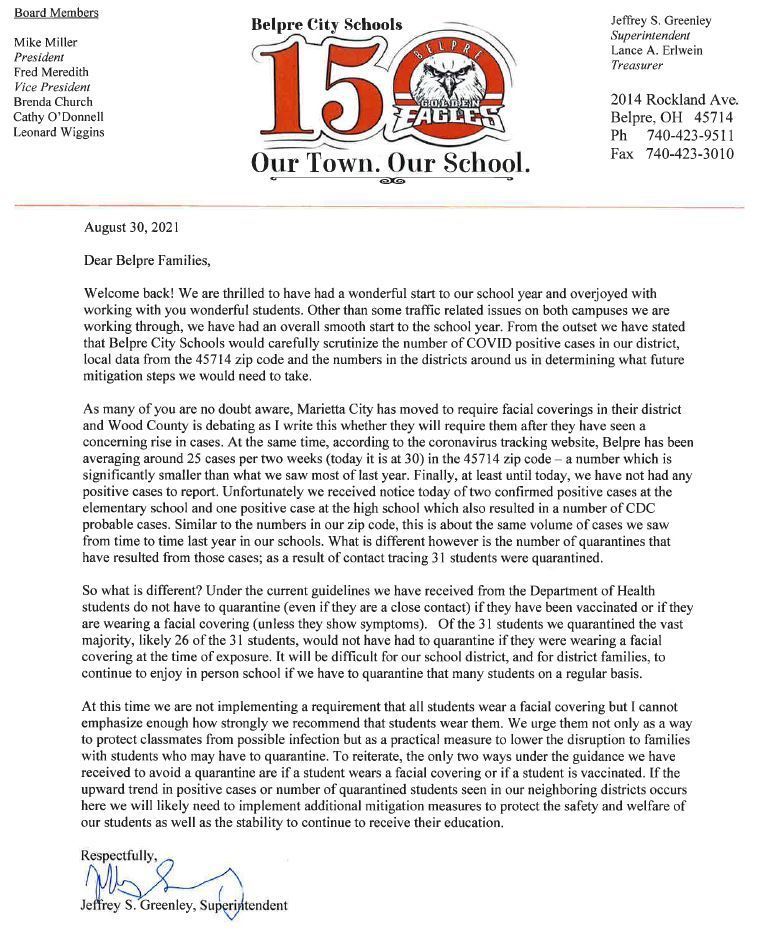 The Student Services department is pleased to announce we will be releasing introductory articles to acquaint you with all of our new hires throughout the upcoming weeks. Belpre City Schools is excited to have all of these new faces within our school buildings, and we are confident that they will provide excellent education and resources for your children! This week we would like to introduce our new science teacher, Mr. Jacob Carpenter. He is currently teaching the 7th and 9th grade students, but is certified to teach grades 7-12. Mr. Carpenter's first day with us was August 11, 2021, when he participated in our new staff orientation and professional development days. During his professional development days, Mr. Carpenter participated in the Authentic Intellectual Work cohort, which provides instruction on techniques for generating substantive conversations to develop deeper conceptual understanding of complex issues, and promote value for the student beyond school. During his interview, Mr. Carpenter commented on how much he has already learned from the staff at Belpre! He advised he feels well-equipped to handle his classroom and teach his students in an effective manner. Mr. Carpenter graduated from Alexander High School in 2017. He then furthered his education at Ohio University, where he graduated in 2021 with a Bachelor's degree in AYA Integrated Science Education. Mr. Carpenter has had the opportunity to teach Martial Arts in Athens for the past 6 years. This experience has given him some useful teaching techniques that he will incorporate into his science classroom. Mr. Carpenter has the privilege of being mentored by Jessica McNally, another of our wonderful science teachers. Mrs. McNally also helps our students with science credit recovery through our Peak program. Mr. Carpenter is stationed in the high school, room 118, where he invites you to stop in and introduce yourself! When asked why he chose a career in teaching, Mr. Carpenter stated he has always had a passion for science and loves helping others. He feels as if teaching science to the kids of Belpre City Schools is a great way to accomplish both! We are excited to see the difference Mr. Carpenter will make in our science department!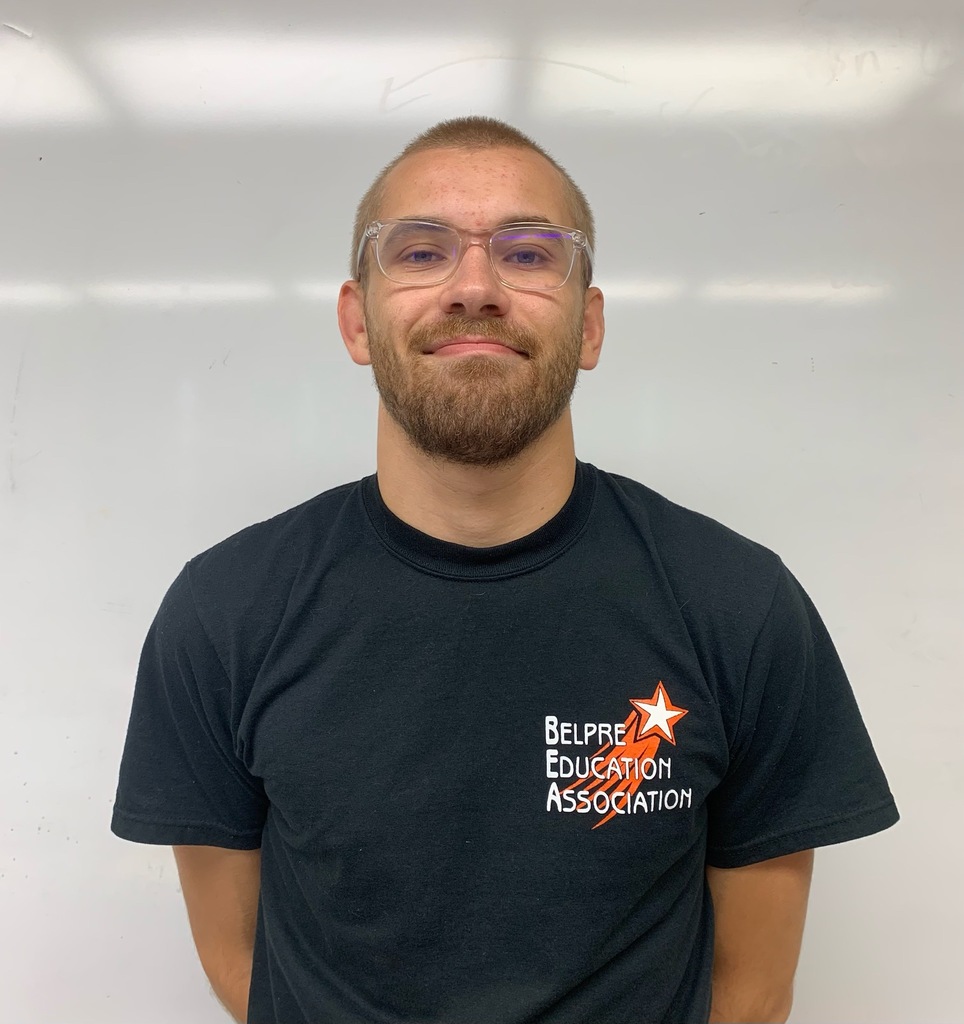 Parents: You may receive an email from a group called "Bark for School" asking to confirm your contact information. Bark for School is our internet safety partner which monitors student communications or web searches on our devices for signs of serious issues like suicidal ideation, threats of violence, bullying, inappropriate content, etc. By confirming your contact information, you will receive notice if a warning sign has been detected in order to support your student. You can learn more about this important safety measure by visiting its website at
https://www.bark.us/schools
.

Belpre Lions Club is hosting its Spaghetti Dinner on Sept. 18 from 4 - 7 at their Clubhouse. $7.00 per adult, kids under 5 eat free!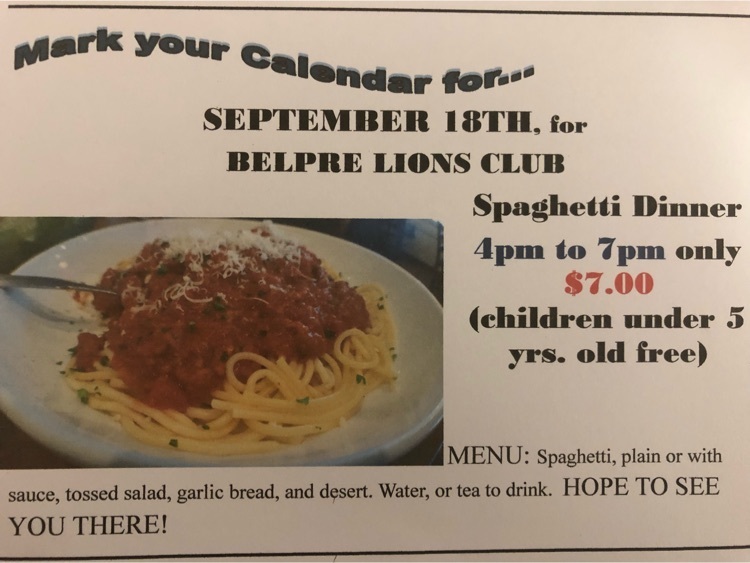 Please join us next Wednesday, September 1 at 6:30 P.M. at Belpre Elementary for the first of several Facility Community Meetings. Come and engage with our district as we consider the current state of our school facilities and work towards a master facility plan for the future. We hope to see you there!