Today our administrative team welcomed our six new teachers and two long-term substitute teachers to the district! Our new teachers engaged in learning around classroom management as well as the important skills and mindsets the district incorporates into our core academic areas. If you see these new faces, please say hello!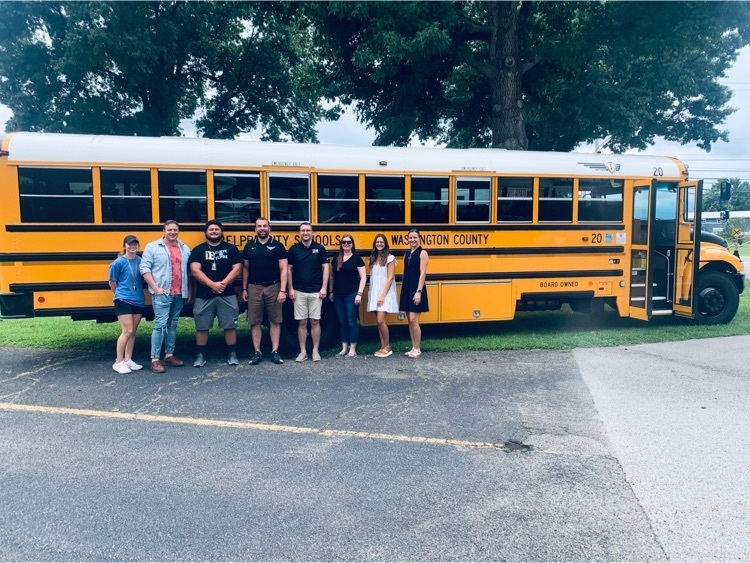 Make the first days back a little easier for your student - drop off classroom school supplies at the Belpre Elementary School office from 8:30 a.m. - 2:30 p.m. Monday-Wednesday (15th, 16th, 17th). Have the supplies gathered in a bag or box, labeled with your child's name and homeroom, and we'll do the rest!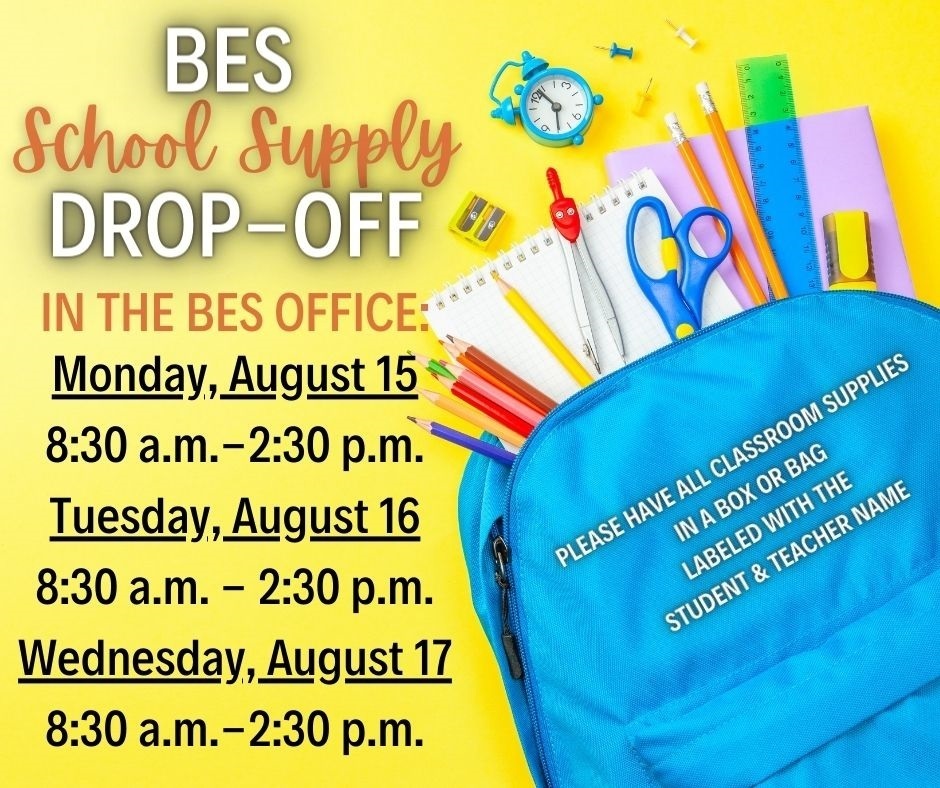 2022-2023 Bus Schedule
Back to school time can be stressful but we are looking to help. We are excited to announce that the Vision Van is coming to Belpre City Schools this year! Every student in the district grade K-12 will be screened and provided a FREE eye examine and glasses (if needed). The screenings and examines will happen during school hours on school grounds. We are very excited about being able to offer our students with this service. For any questions, please email Nurse Megan at
bc_mfreed@belpre.k12.oh.us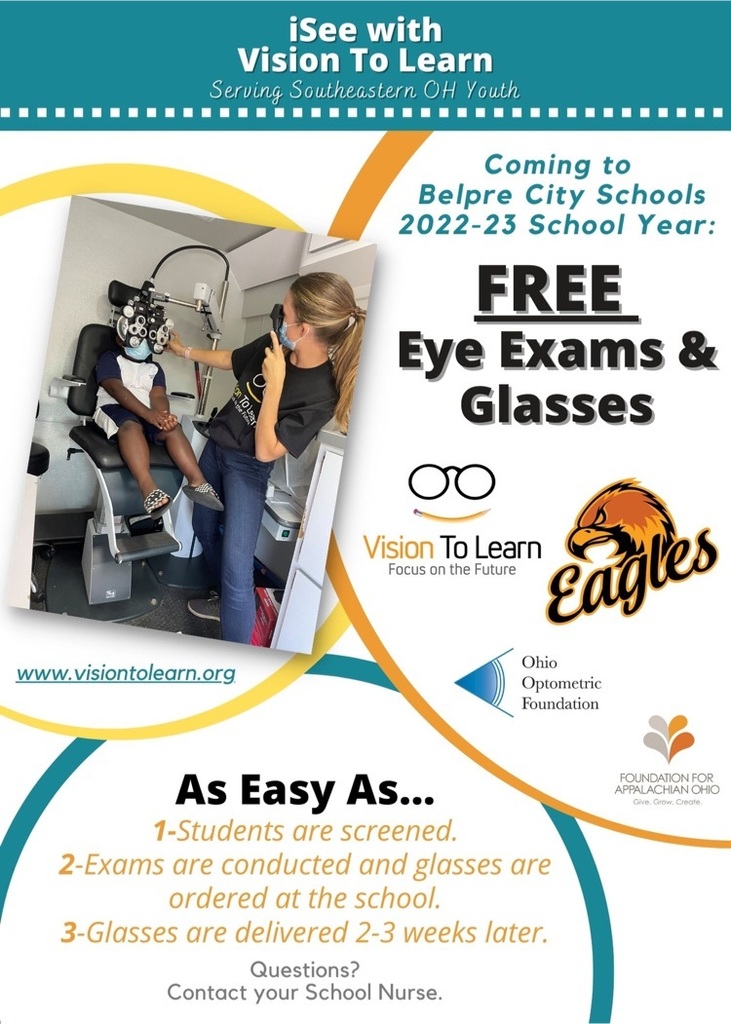 Keep an eye on those mailboxes! Belpre Elementary homeroom and staggered start date letters should be delivered soon. We can't wait to welcome our students back to the building!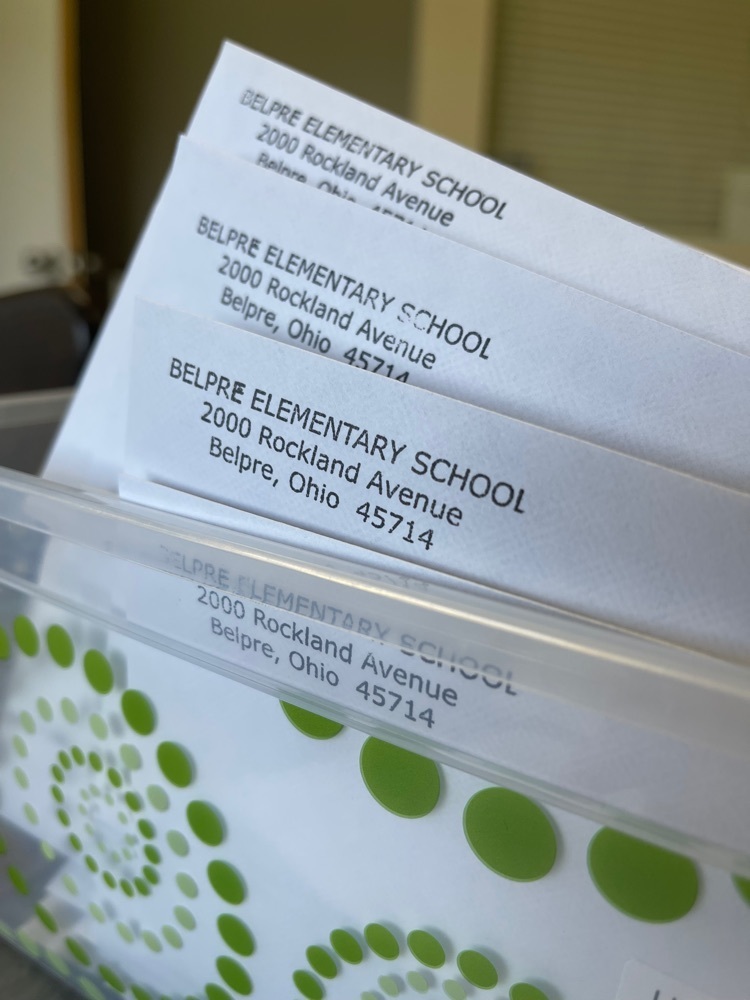 Mark your calendars for First Grade Orientation on August 16 from 6:00-7:00 p.m. in the Belpre Elementary Gym. See you there!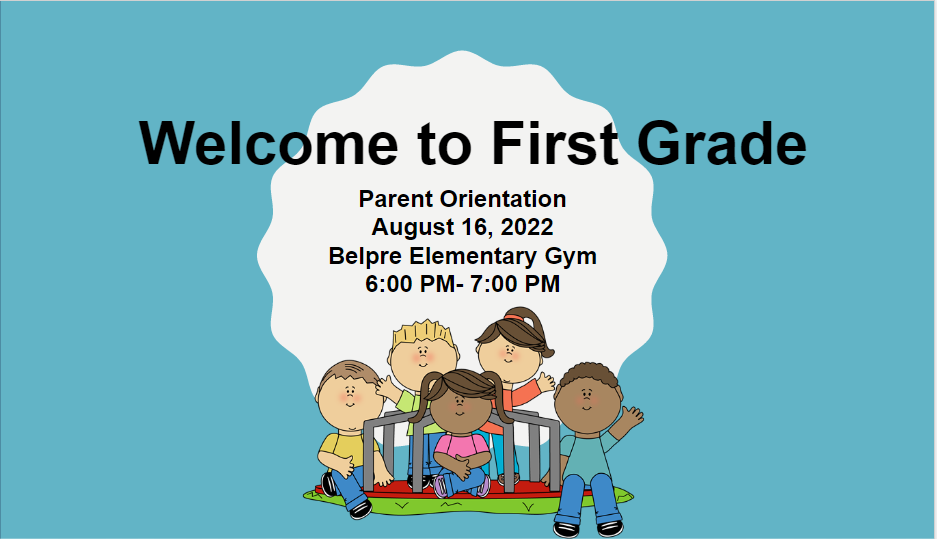 Message for Juniors and Seniors Senior pictures will be Tuesday, Aug. 16 from 5:00-7:00 in the high school library. Tux and drapes will be provided. There is a $5.00 fee for these pictures. Junior and Seniors will have the privilege of eating off campus and also early dismissal. If you are planning on utilizing this on Monday, Aug. 22nd, your first day of school, you will need a signed permission slip from your parent or guardian. Permission slips can be picked up in the main office next week between 8:00am to 2:00pm. Remember this is a privilege that can be taken away for students not in good standing.

Attention grades 7-12 families- *We will be utilizing a staggered start like in years past. Thurs., Aug. 18 7th and 9th grades only Fri., Aug. 19 8th and 10th grades only Mon., Aug. 22 All students report *The regular cost for school lunch is $3.05. Students who may qualify for free or reduced lunch should turn in the proper paperwork in the first few days of school. * Middle School open house will be Wednesday, August 16 in the Lawton gym. 7th grade families should come at 5:00 and 8th grade families should come at 6:00. *There will be no official open house for the high school. All students can view their schedules on Infinite Campus. If you are new to the school and would like a tour, next week the school will be open from 8:00am until 2:00pm.


7th and 8th grade, join us for Open House on August 16!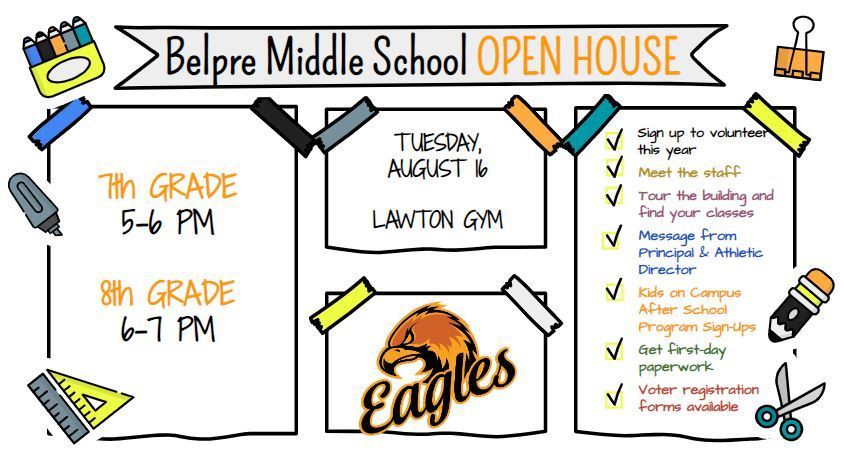 The mandatory OHSAA pre-season meeting will be held 8/3/22 @6:00pm in the BHS Gym. The dual sport meeting (only for athletes competing in two sports in the same season) will be held the same day at 5:30pm in the BHS Gym. ALL STUDENT ATHLETES AND A PARENT/GUARDIAN must attend!

Belpre Fans the boosters are doing a fundraiser with the Frostee Shoppe Belpre! All you have to do is go in and order the Soaring Eagle 🦅 Dreamsicle starting August 1st through the 15th. We get $1.00 of each one sold. It's a great way to support local and give back to the boosters. Also, tag the boosters in a post when you get one and we could have a sweet surprise for one lucky person! Thank you all so much.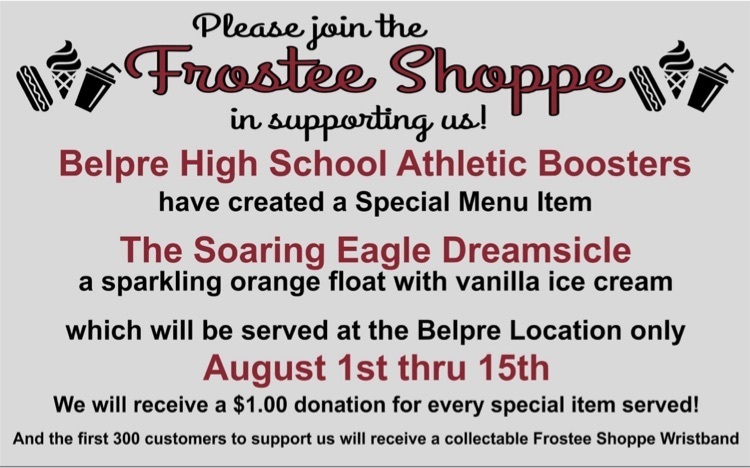 Good morning, Belpre Kindergarten families! We are so looking forward to meeting your students in the fall. Before they begin Kindergarten however, they need to complete the screening process with our Kindergarten team. If you have not yet signed up for a one hour time slot on August 18th, 19th, or 22nd, please take a few moments to do so now using the provided link below. You and your child will only come for this one hour time on one of these three days. Thank you so much for your help. We look forward to meeting you and your family very soon!
https://docs.google.com/forms/d/e/1FAIpQLScno9UPhatkZxeJxV5InJn6XrvzS4LrVkTp6QGnlNbEENx8iA/viewform


Today is supposed to get hot so come cool off at a free pool party at the Belpre Pool! 6-8 PM, free admission for the family, and a free farmer's market for youth! Sponsored by Wendy's, Belpre UM Church, and the Right Path for Washington County.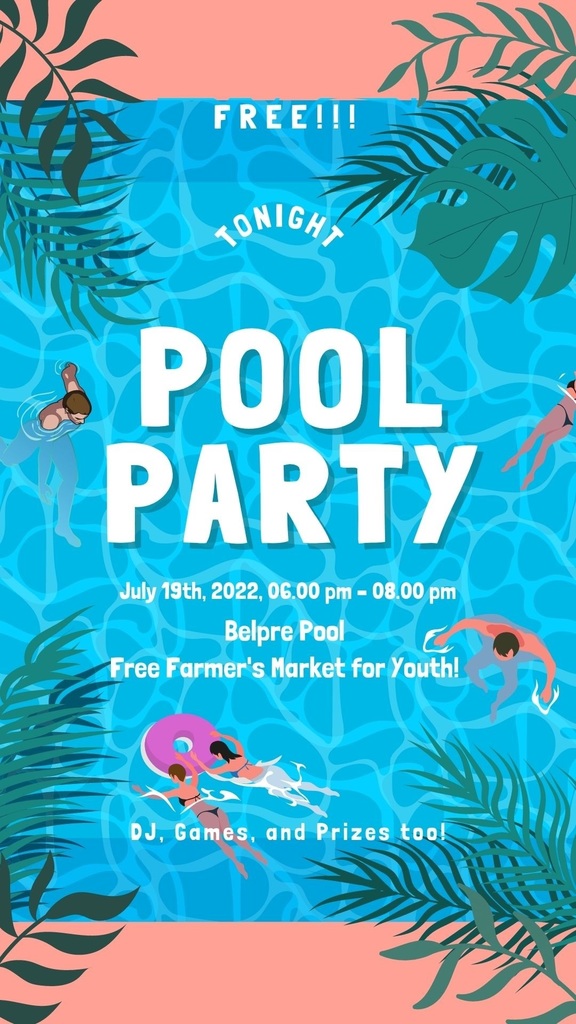 July Regular Monthly meeting of the Belpre City Schools Board of Education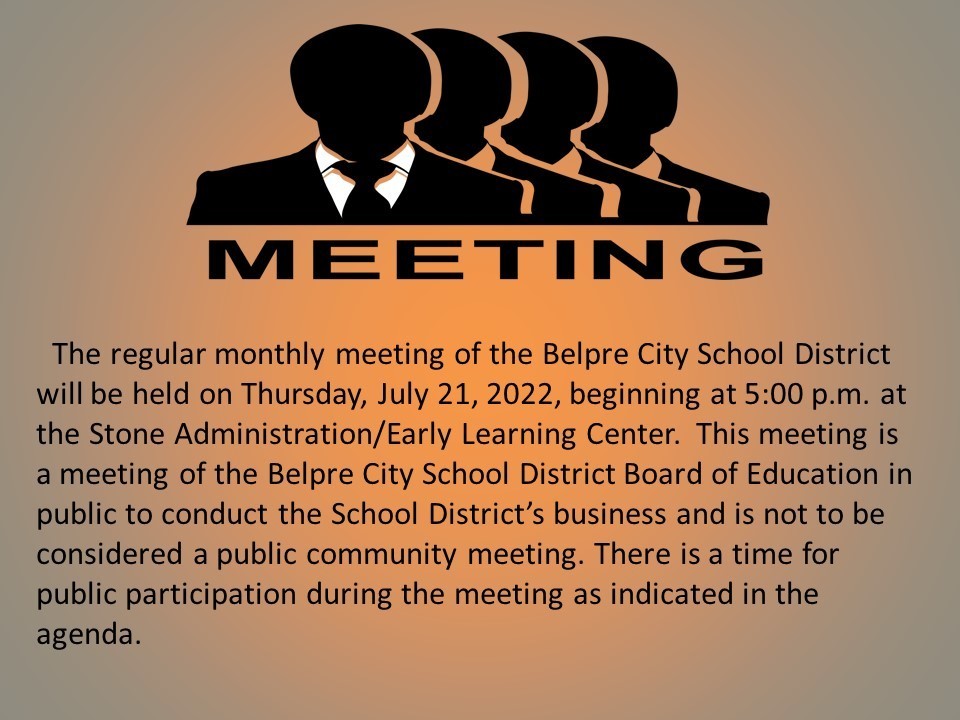 School Supply List for Belpre 7th and 8th Grade 2022-2023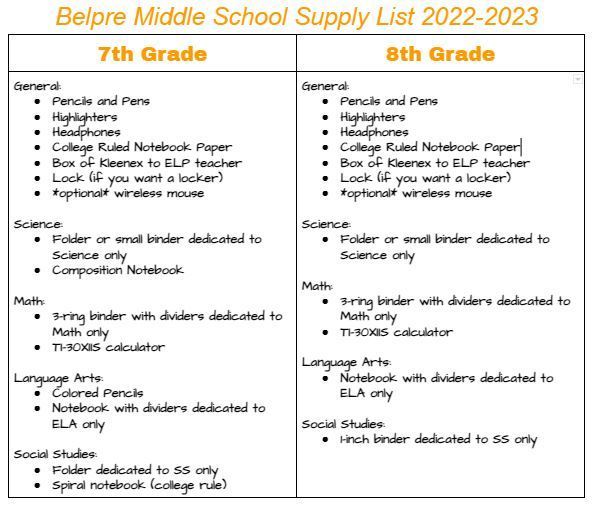 Incoming 7th graders through 2022 graduates are invited to register for this FREE student-led mental health event! Navigating peer conflict during the teen years can be difficult, and this event will help students build important skills.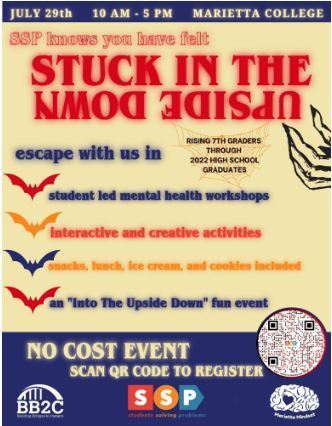 Football workouts have begun!!! We are excited about our upcoming season. 7th-12th grades students wanting to participate in our Belpre Football Program this fall should join us for our summer workouts. They are every weekday from 10:00am-12:00 in the BHS weightroom. See you there!

Junior high cross country conditioning will begin next week. We will meet from 8-9 am at the Civitan Park basketball courts on Tuesday, Thursday, and Friday. Any high school students interested in running can also attend on these dates. We look forward to having a great season and hope to see you there!