" The Belpre High School Junior Class would like to invite all High School students to the annual Powder Puff football game tomorrow, Wednesday October 13th at 6pm at the high school football field. Tickets will be sold at the gate for $3. Concessions and Kona Ice will also be available for purchase at the game. We look forward to seeing the stands full tomorrow!"
Belpre is excited to introduce Mrs. Amanda Riggleman! Mrs. Riggleman graduated from Marietta College in 2020 with a Bachelor's degree in Education, with a focus on Intervention. She is currently finishing up her Masters degree through Capella University. She will graduate in June with a degree in Psychology, specializing in Applied Behavior Analysis. Mrs. Riggleman had various field placements in many different schools in Washington County throughout college. She also completed her student teaching experience at Warren Middle School. Mrs. Riggleman is our 6th grade cross curricular teacher, focusing mainly on writing. She is located in the Elementary school, room 211, where she is adjusting nicely to the students and the environment! When asked why she became a teacher, she stated that she knew she wanted to be a teacher when she was in 6th grade; now here she is, teaching 6th grade and loving every second of it! We welcome Mrs. Riggleman to Belpre and we look forward to seeing the positive impact she makes on our students.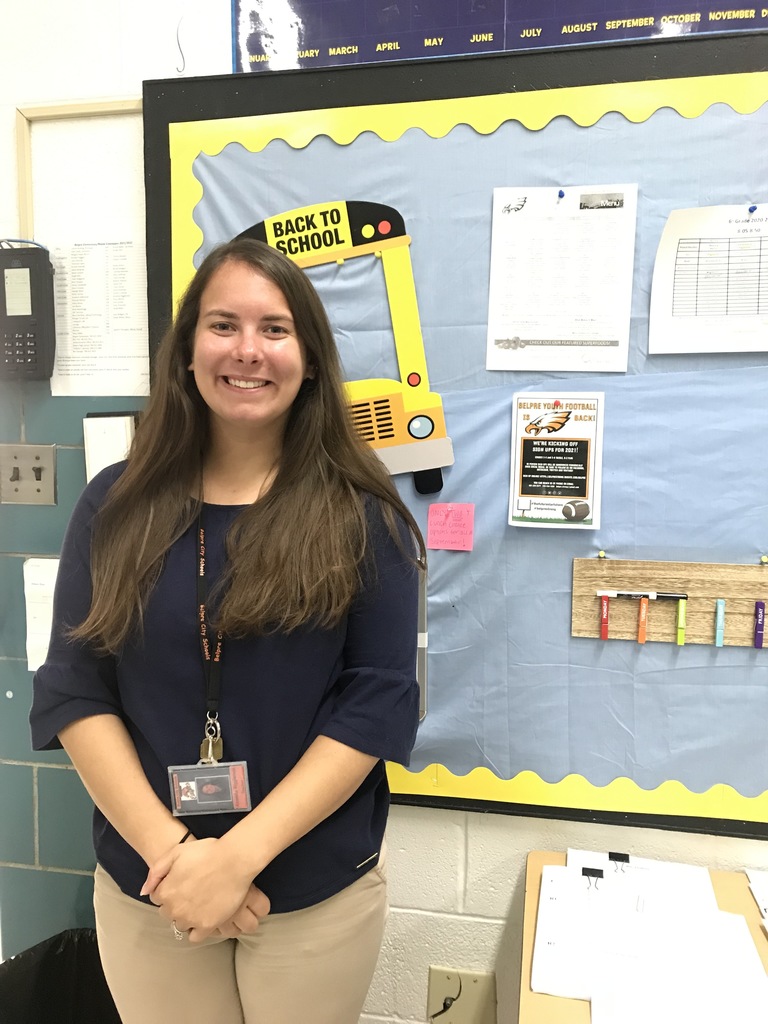 This week we would like to introduce Mrs. Sarah Kaufman! Mrs. Kaufman graduated from West Virginia University at Parkersburg in the Spring of 2021. She has a Bachelor's degree in Biology along with a Bachelor's degree in Elementary Education, K-6. Mrs. Kaufman gained classroom experience during her student teaching hours at Neale Elementary school. She also was a substitute teacher for Wood County schools for 3 years, where she taught all grade levels. Mrs. Kaufman teaches 5th grade Math here at Belpre Elementary school, where she is warming up to the kids very nicely! She is located in the Elementary school building, room 208, where she would love for you to stop in and say hello! When asked why Mrs. Kaufman decided to become a teacher, she stated that she had originally wanted to pursue a career in biology, but after having her own children and being in the classroom, she quickly fell in love with being around kids. After Mrs. Kaufman decided to take a different route with her career, she began pursuing her education degree while substitute teaching. We are thrilled to have Mrs. Kaufman at our school, and we look forward to watching her flourish here at Belpre!

Belpre Boys Rec Basketball sign-ups will be this Wednesday, October 13 from 6:00 p.m. to 7:00 p.m. Sign ups will be held at the Civitan Park concession stand. This is for any boy in the Belpre area in grades 3 - 6.
This past week, Mrs. Edgar, our talented and gifted intervention specialist, took some students on an entrepreneurship field trip around Belpre. Karen Waller, the Director of the Belpre Area Chamber of Commerce, was their tour guide throughout the day. The students were able to talk with several business owners and learn about the different aspects of owning a small business. Learning about the past and the future of Belpre was insightful for the students, and included some surprises! Belpre Furniture, Zenergy Massage, The Changed Plate, Citizens Bank, Boxers Bed and Biscuits, Bob's Market and Rockland Ridge all graciously opened their doors to the students, spending valuable time showing them around and answering all of their questions. This trip was a fun day that everybody really enjoyed! It is always beneficial for our students to see Belpre in a different light than they normally do. One student stated in her essay that "The Belpre field trip taught us a lot about entrepreneurship and what it means to own a business. We talked a lot about different businesses and how they all got started. We also learned the aspects of being a functional employee. This trip was very informative and I believe what I learned will benefit me greatly in the future."
The Pride of Belpre Marching Band will be performing at Meadowbrook Festival of Bands this Saturday, Oct. 9th at Meadowbrook High School in Byesville, OH. Performance time is 5:00 p.m. Please come and support our band!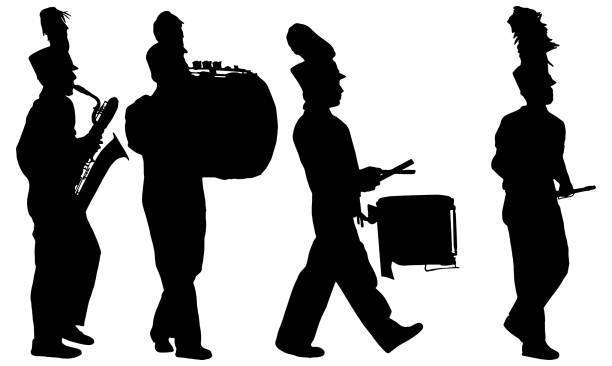 The Belpre Middle School 7/8 Student Council and Grade 6 Lighthouse Team came together for a day of bonding and learning on Tuesday. They "attended" the OHSAA Virtual Leadership Conference and participated in some valuable social-emotional learning activities with their advisors, Mrs. Miller and Mrs. Hughes.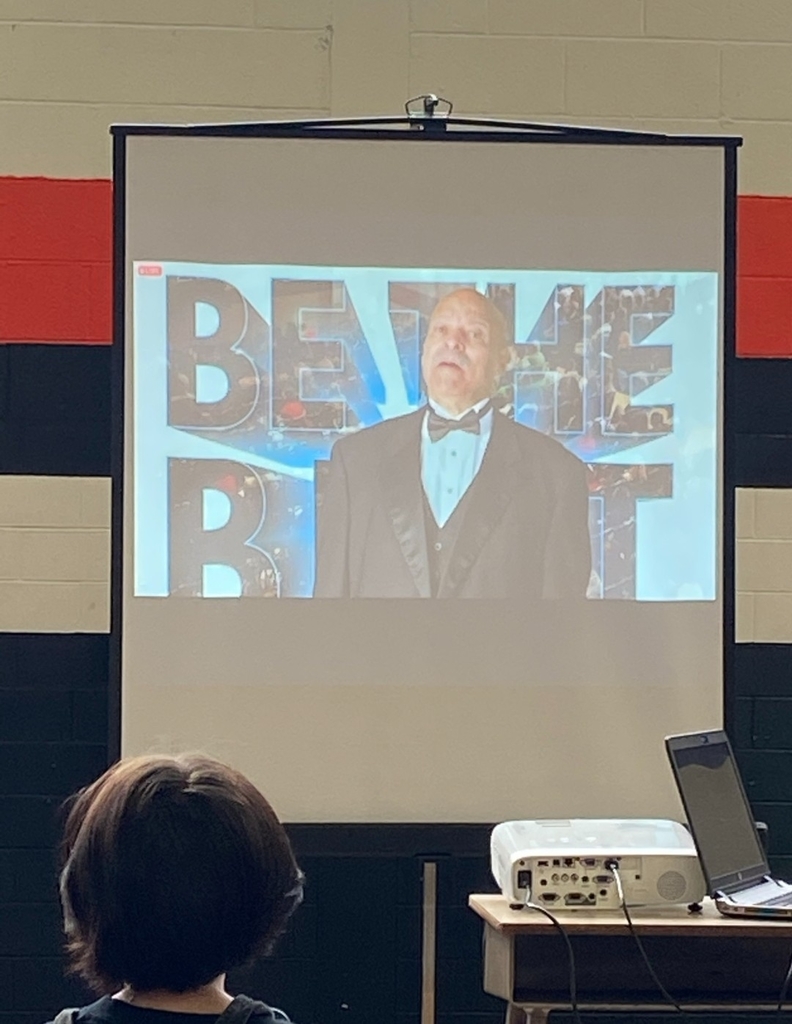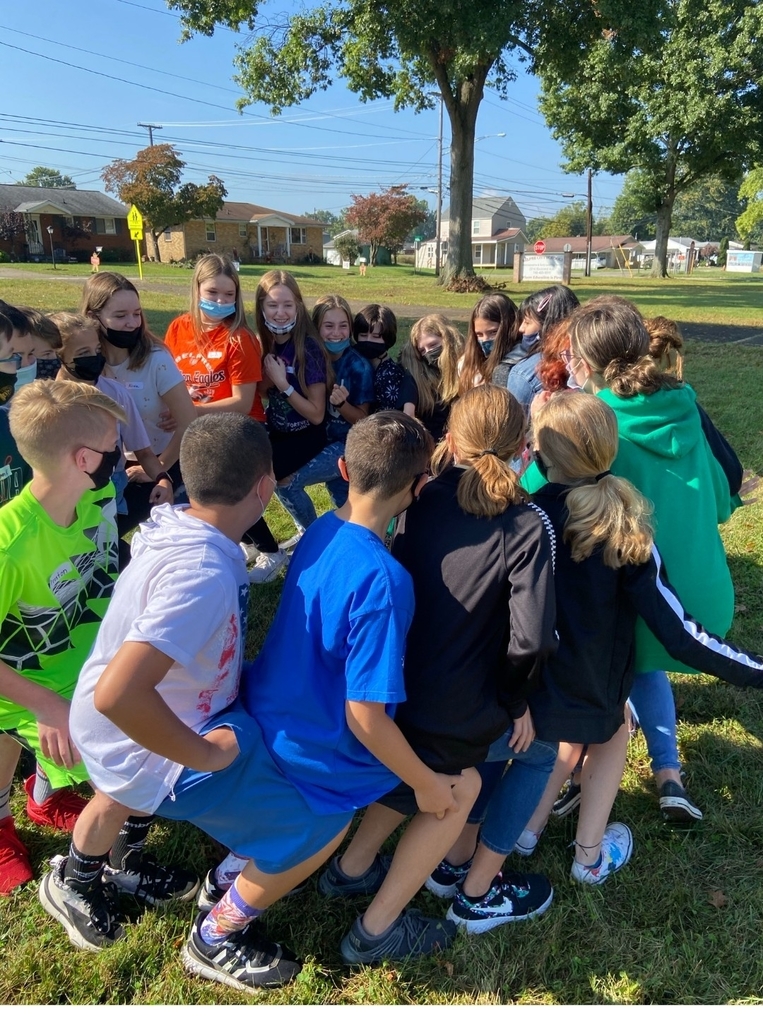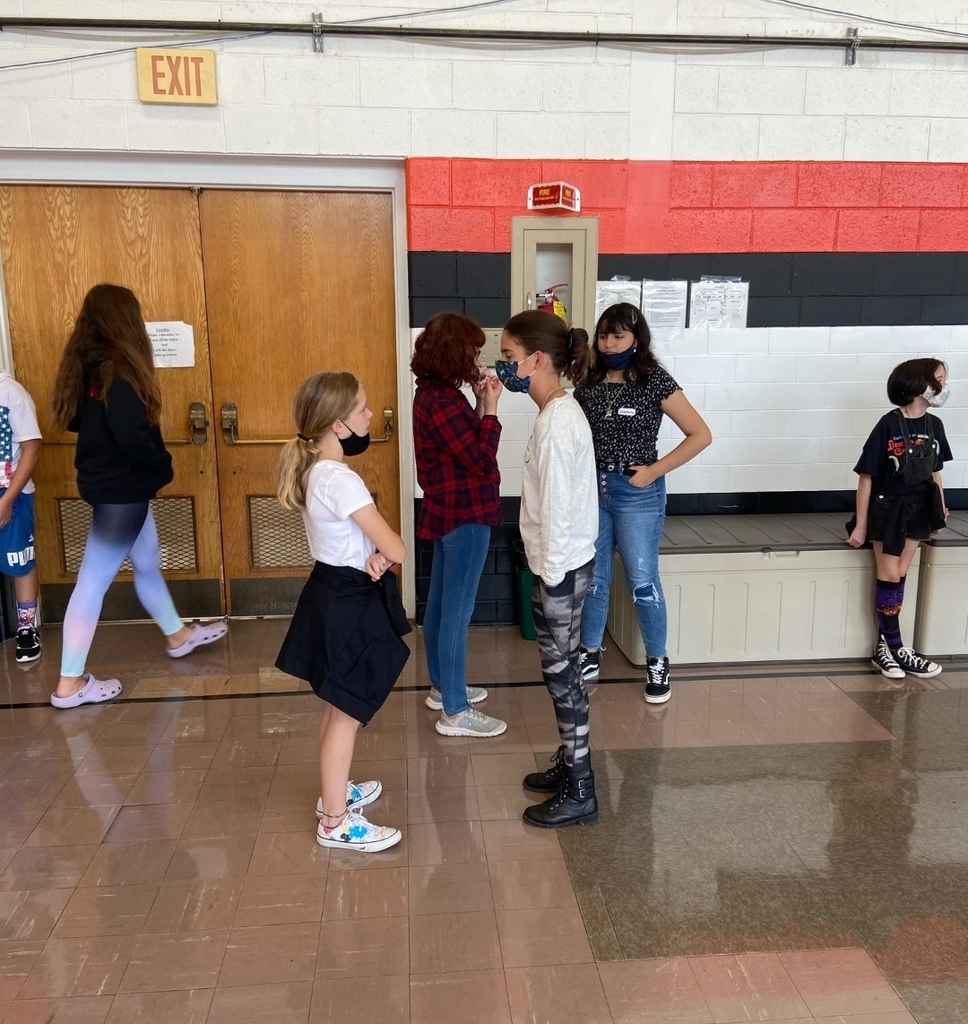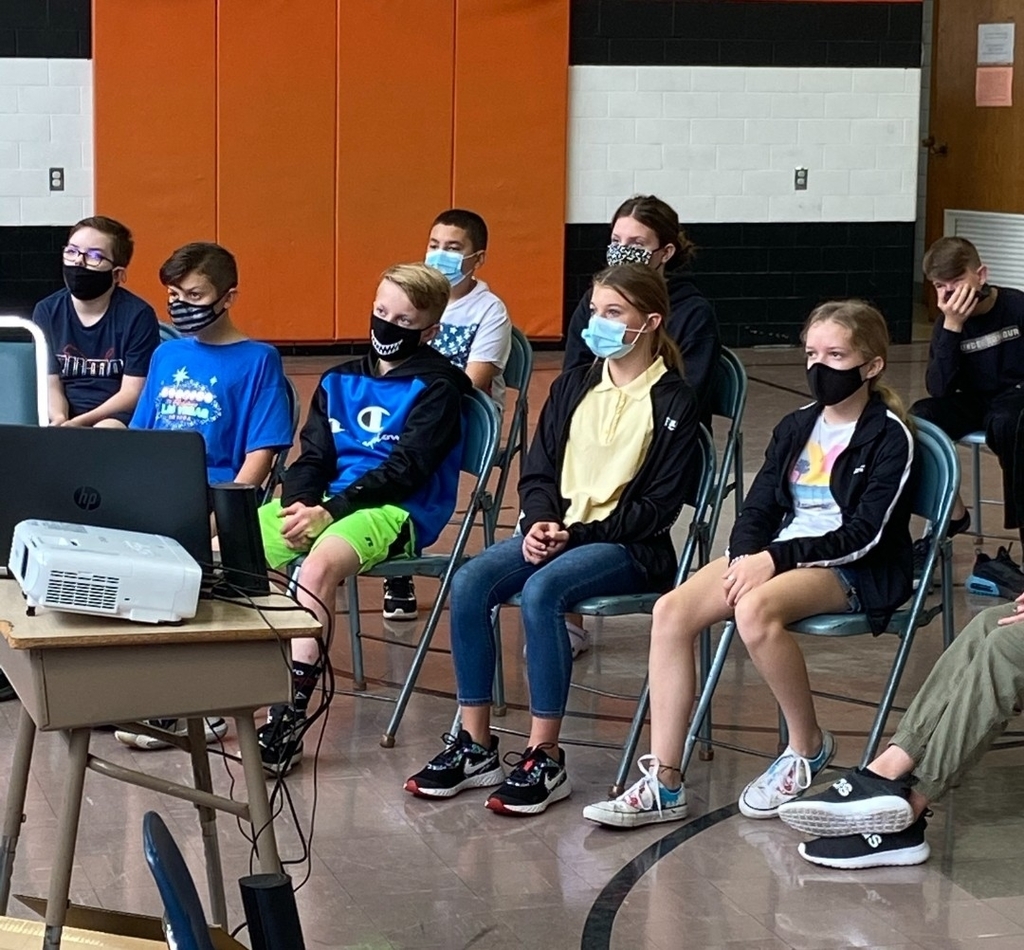 It is time for flu vaccines and we are here to help! The Marietta/Belpre Health Department will be hosting a drive-thru vaccine clinic at Belpre Elementary on Saturday, October 30th from 10-1. This clinic will have both the flu shot and the nasal spray option. We hope to see you there!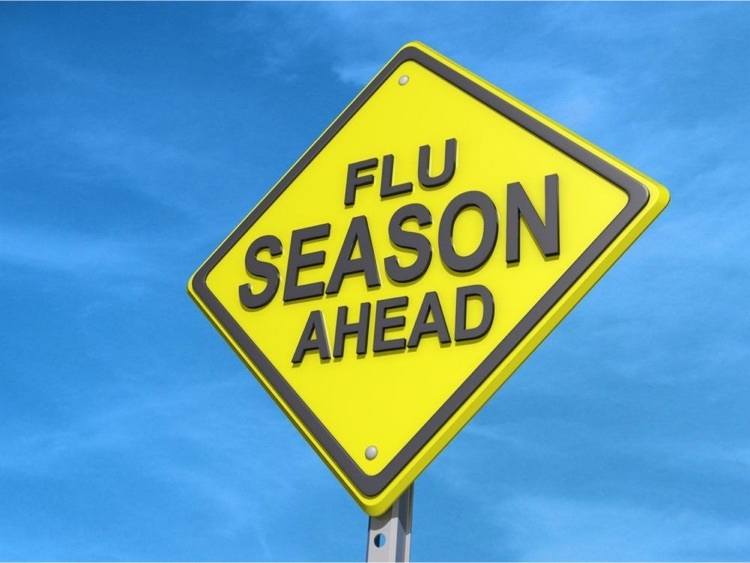 Today is National Coaches Day and we want to express our gratitude to all of our coaches for the hard work and diligence they put in to support our student-athletes. Few are aware of the hours of time they spend traveling, coaching, watching film, strategizing and mentoring our students into the best version of themselves. Thank you to each of you for your hard word and dedication!
Hello Belpre High School families. If your student is in 7th or 12th grade, this is a reminder that they should have had a TDAP and meningitis vaccine recently and we are needing their updated immunization records. Please call your pediatricians office to have them fax an updated immunization record to the school. The fax number is 740-423-3003.

Grandparents descended on ​Belpre Elementary School for Grandparent's Day 2021! Students learned all about apples and completed several activities including apple tasting, apple hats, coloring apple skins and much more. We are so grateful to our grandparents for being a part of our school community and spreading their wisdom to the next generation!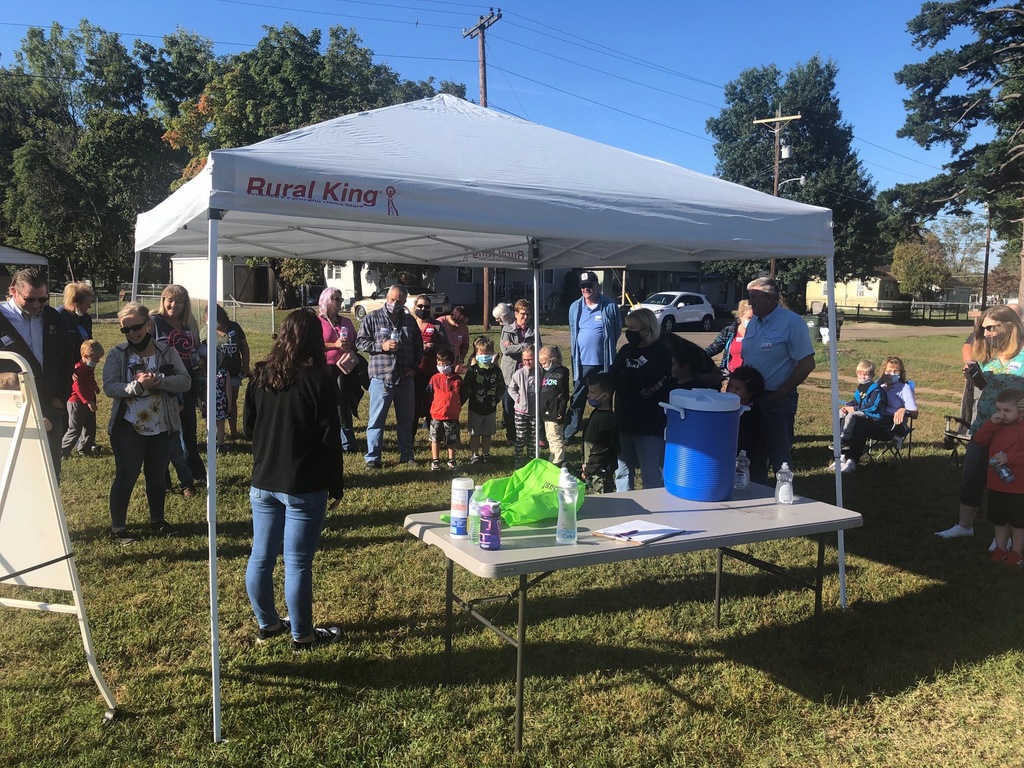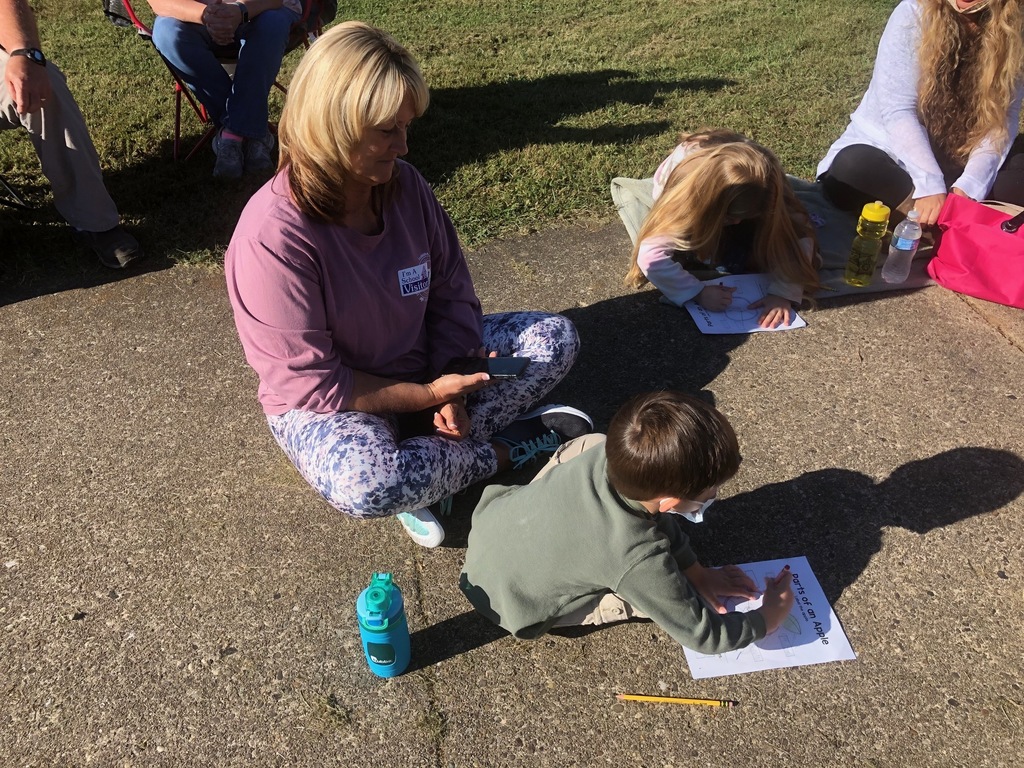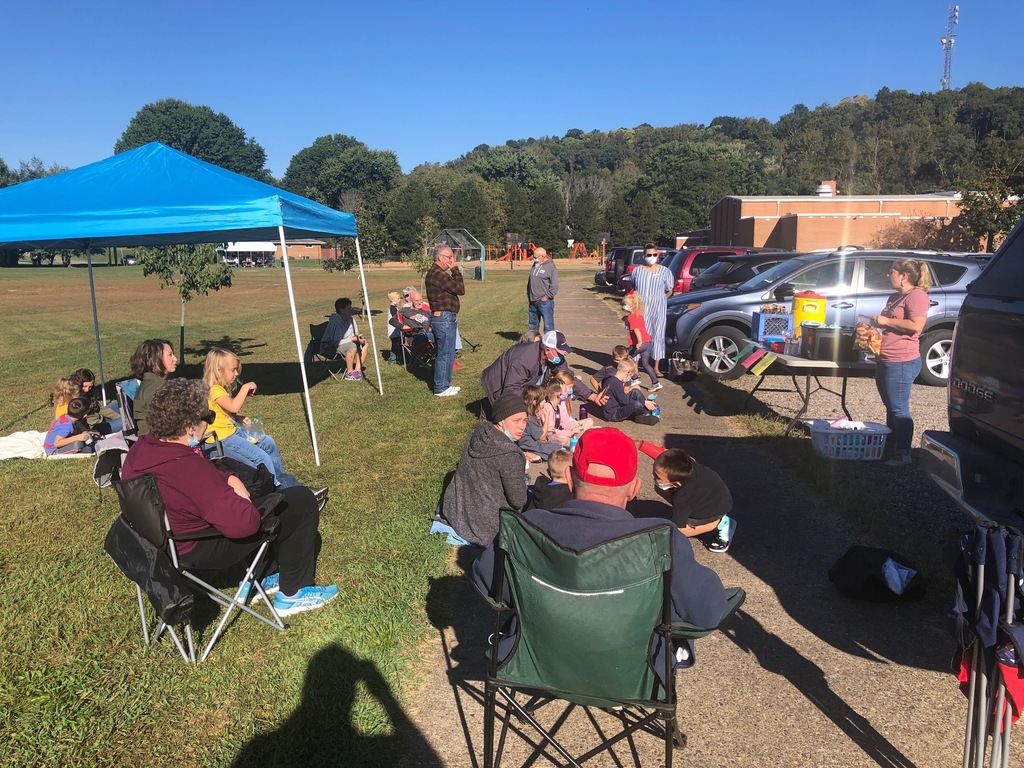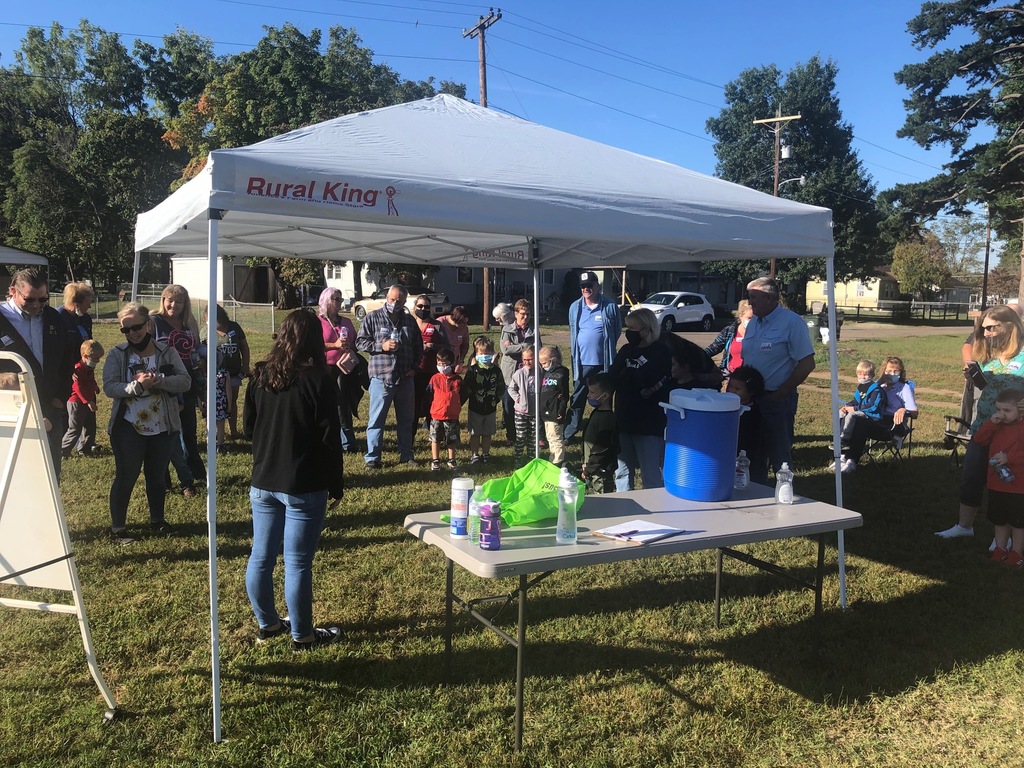 Please join us this Tuesday, October 5 for our next Master Facilities Plan meeting at 6:30 at Belpre High School. This will be the third meeting of the committee and is an important one: we will be discussing community concerns and focusing our attention on which site would be idea for a future campus. Don't miss this opportunity to express your opinion on an important decision for the future of Belpre City Schools. If you haven't been able to make it to our previous meetings, you can catch up by reading the slides and minutes available here:
https://5il.co/zg86
and
https://5il.co/z1we
We hope to see you there!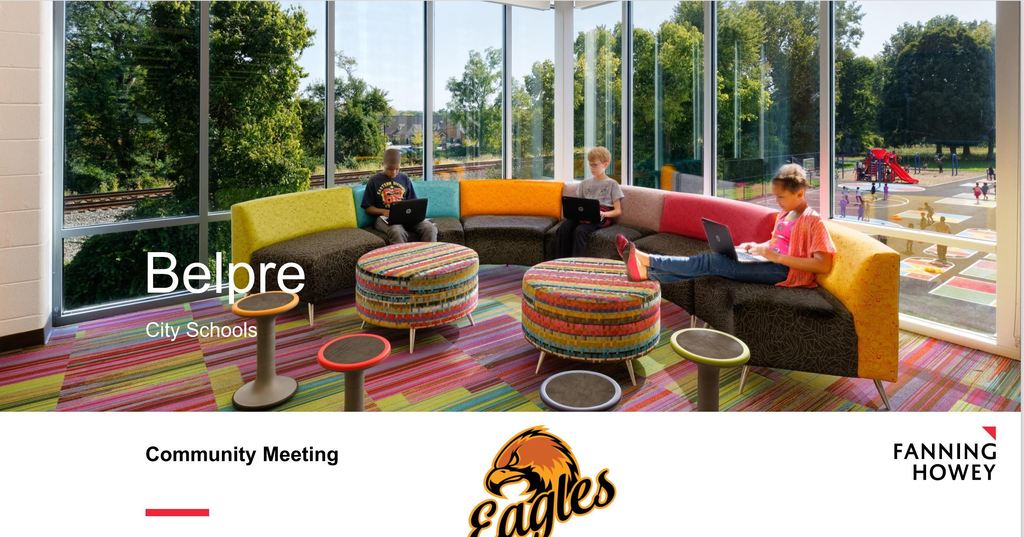 The Belpre Elementary Scholastic Book Fair ends tomorrow, Friday, October 1, 2021. Your child can shop throughout the day, as scheduled by his/her teacher. Please make sure you send your student's money in a sealed, labeled baggie or envelope. Thank you to our Belpre PTO volunteers for their hard work and kindness - we love the Book Fair!
This week in the Life Skills Training class, Mr. Leasure and Mr. Seebaugh taught the unit 'Social Skills' to our 7th grade students. To help the students understand some key concepts, they were asked to participate in a game called 'Conversation Web.' To play the game, the students had to have a bunch of different conversations with all of their classmates around the room. Every time someone added to the conversation, the yarn was to be tossed to them. Since there were a bunch of conversations going on at once, the yarn eventually ended up spread everywhere and tangled up. This was an effective technique used to keep the students engaged in actual conversations with their peers.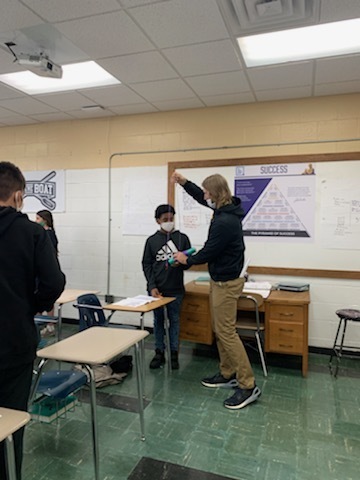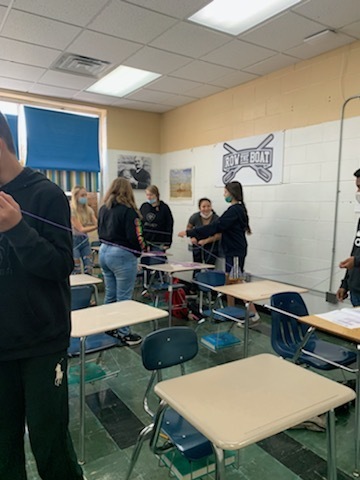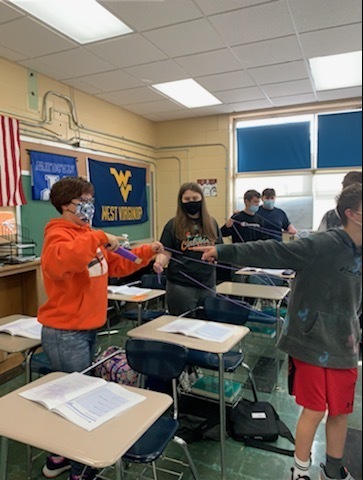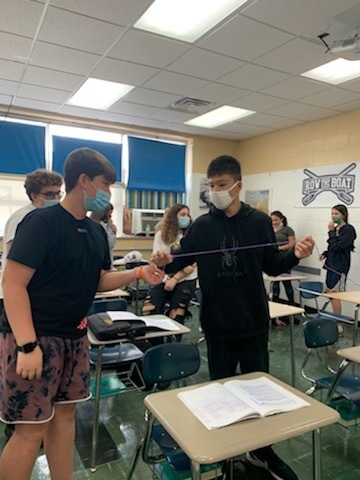 Come And Show Your Support! You have 2 opportunities to see the Pride of Belpre Marching Band perform this weekend. Hope to see your there!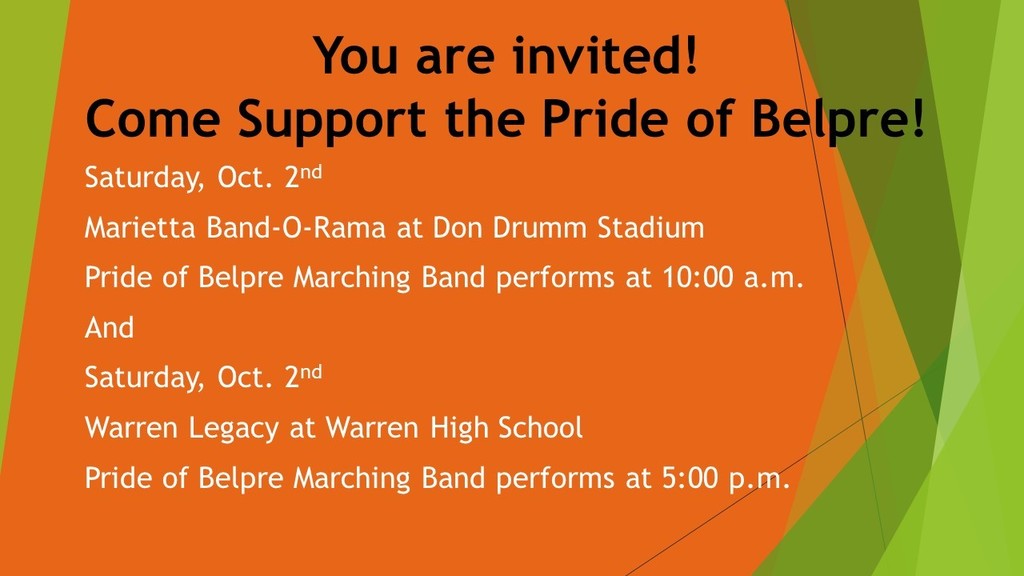 This week we would like to introduce our new Kindergarten teacher, Ms. Tkiersten Sams! She was hired to be a teacher at Belpre during the month of May, and started her first day with the rest of the new hires on August 11, 2021, at which time she participated in professional development days that were focused heavily on Project Based Learning and Curriculum. Ms. Sams graduated high school from Parkersburg South in 2016. She then furthered her education at West Virginia University in Parkersburg, WV, where she obtained her Bachelor's degree in Elementary Education in 2021. In addition to completing her student teaching, Ms. Sams taught summer school in Wood County prior to becoming a BES staff member. Ms. Sams's mentor is Christa Benson, who is our other Kindergarten teacher, both working with children between the ages of 5 and 7. Ms. Sams is located in the Elementary building, room 102. She would love for you to stop in and introduce yourself! When asked why she chose a career in teaching, she talked about how she moved around and missed school a lot when she was younger. She remembers specifically how her first grade teacher took her under her wing and made her feel safe and loved, despite her circumstances. This made her want to be that teacher for other children. Ms. Sams also mentioned how much she loves being here at Belpre because it is like a close-knit family, with teachers and students that are supported equally. She loves how our Superintendent, Mr. Greenly, is eagerly involved by being in our school buildings every chance he gets. She stated that Belpre is always trying to find new ways to learn, and she is super excited to further her career here. We are ready to watch Ms. Sams grow as a teacher and look forward to seeing the positive impact she has on our students.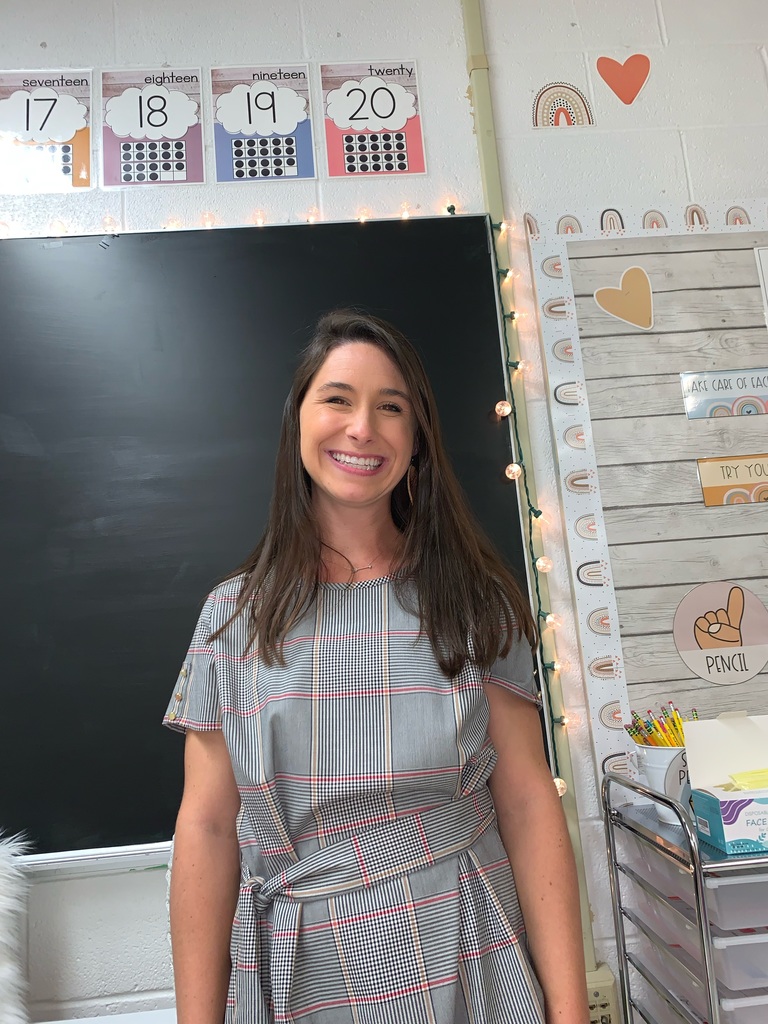 In the 7th grade Life Skills Training class, Mr. Ryan Leasure and Mr. Mike Seebaugh covered the topic "Alcohol: Myths and Realities." With alcohol- related instances being so prominent in today's society, we wanted to spend some extra time going over the risks and dangers of being under the influence. Chief Williams and Sgt. Kirby of the Belpre Police Department graciously agreed to come to our school on September 16th to provide information to our students, along with allowing them to wear several alcohol and drug impairment goggles that were designed to mimic different levels of impairment due to blood alcohol levels. The students were asked to perform different activities while wearing the goggles. Some of these activities included shooting basketball, walking a straight line, writing their names in a notebook and directing a steering wheel along a road map. The students were fascinated with how hard it was to do these simple tasks while wearing the goggles! This fun, hands-on technique was very beneficial and eye-opening for the students. We want to thank the Belpre Police Department for being so willing to take time out of their day to come to BHS and work with our students! We hope to do this again next semester with the second half of the 7th grade class!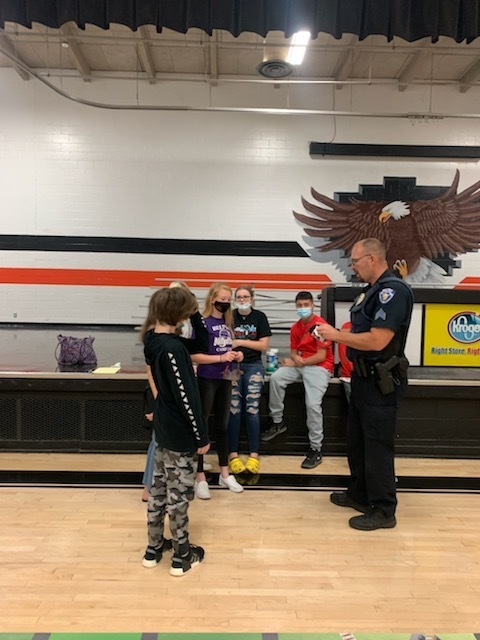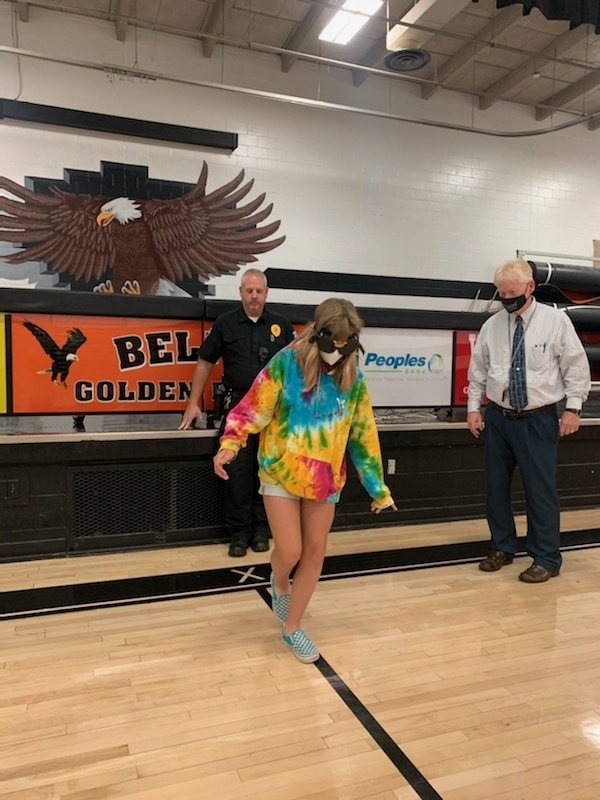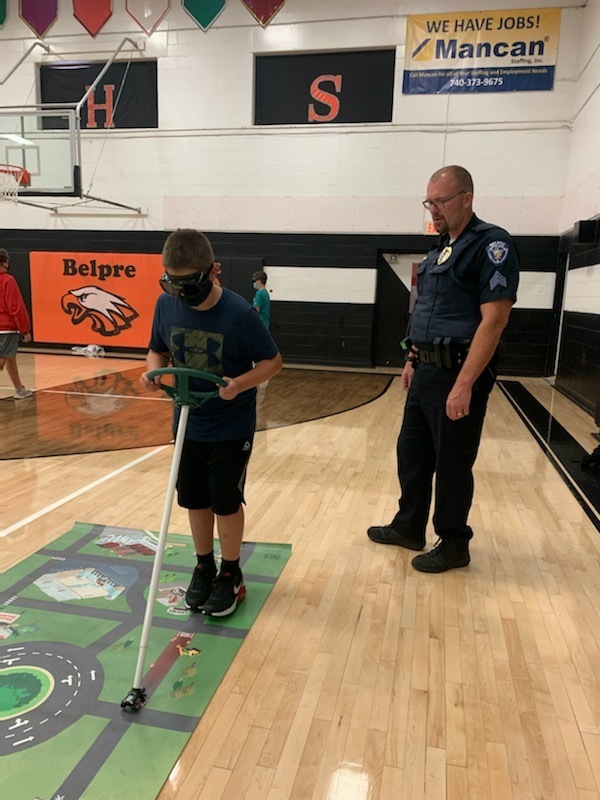 BES is full of first grade math stars! Our students are sharpening their skills with daily independent center practice and small group instruction.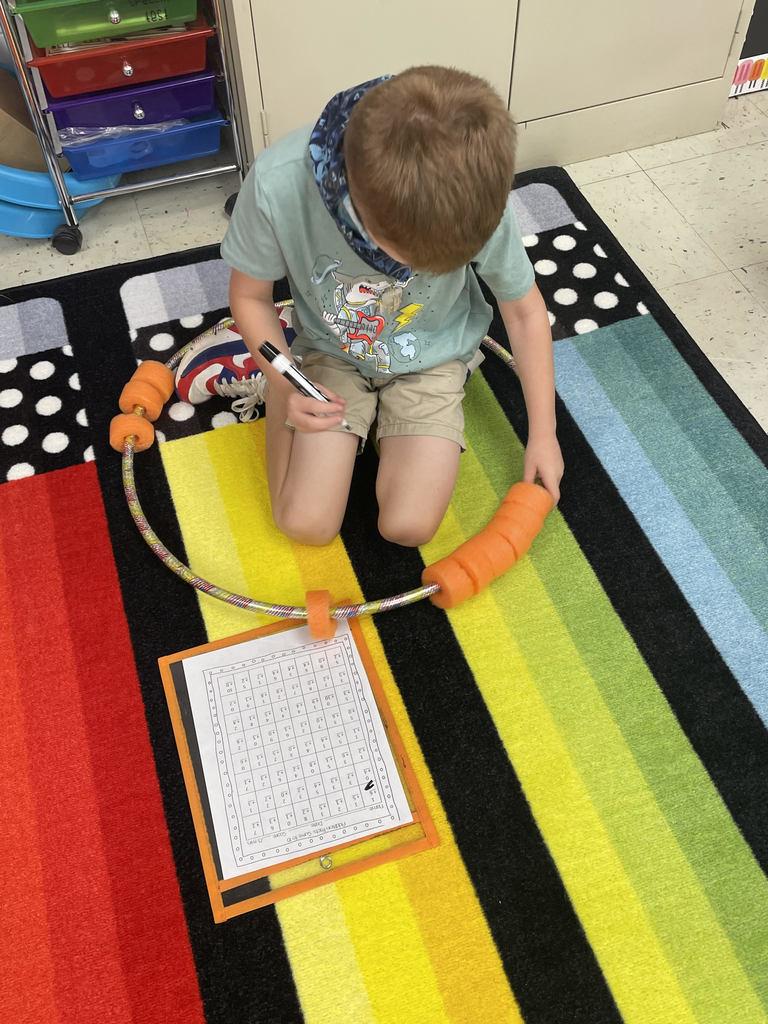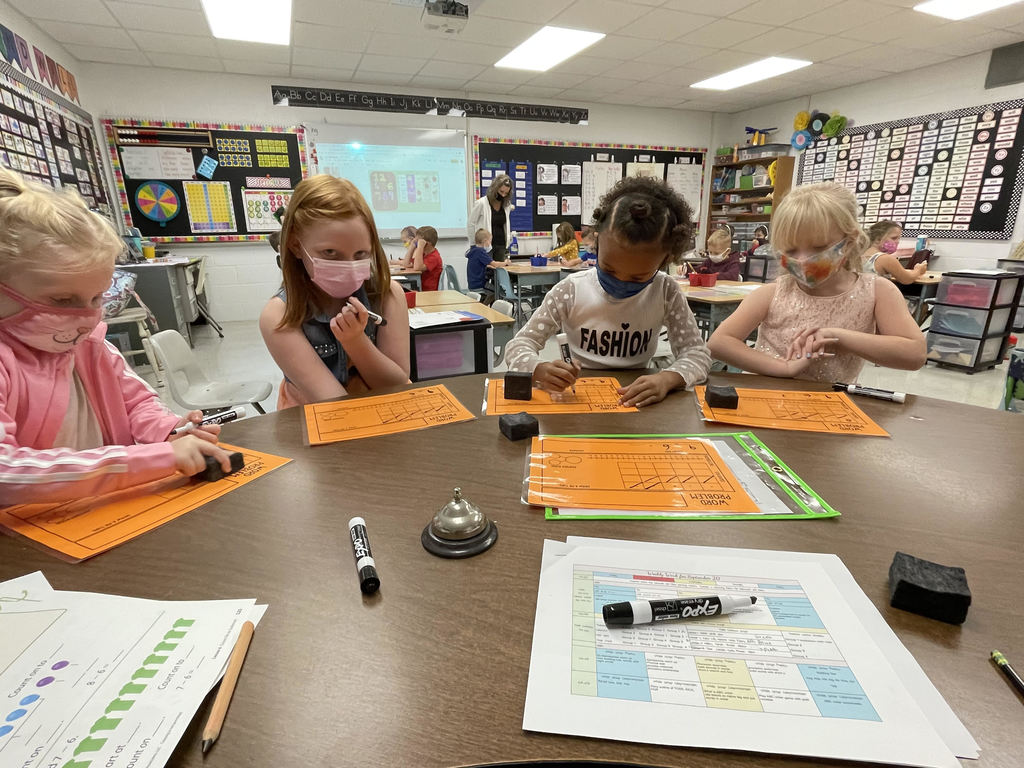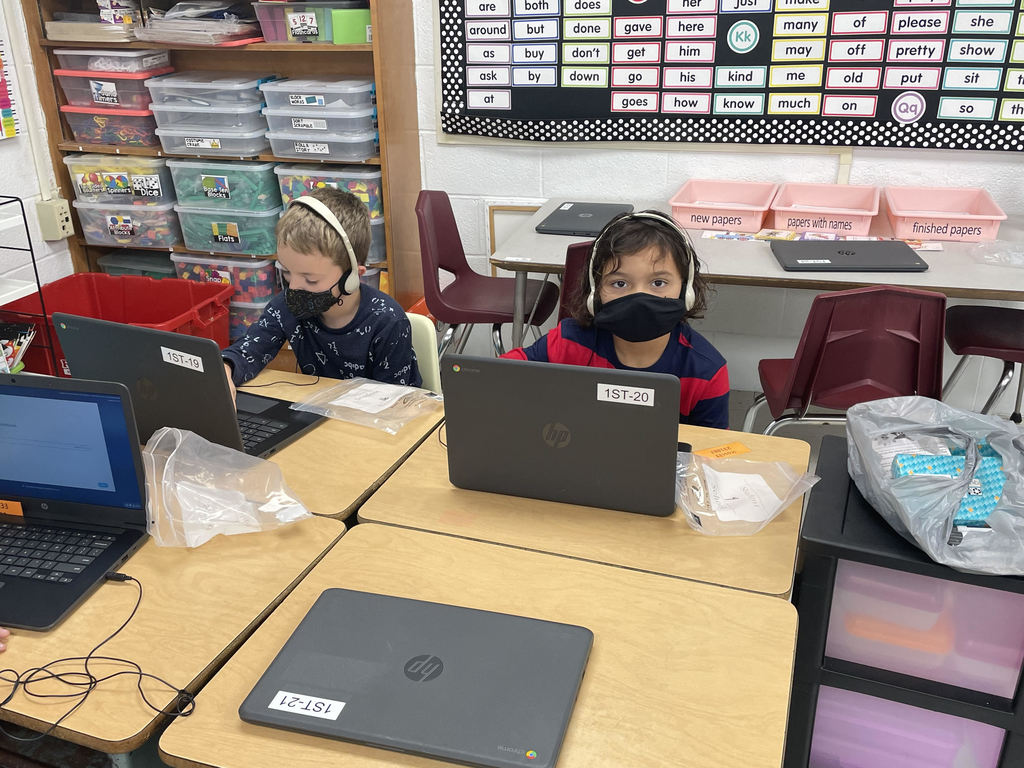 Watch out! Marshmallows are flying in fourth grade! Students engaged in a science, technology, engineering and mathematics (STEM) learning challenge by working together to build a marshmallow catapult. The learners made changes to their design throughout the process to get the marshmallow to travel as far as possible!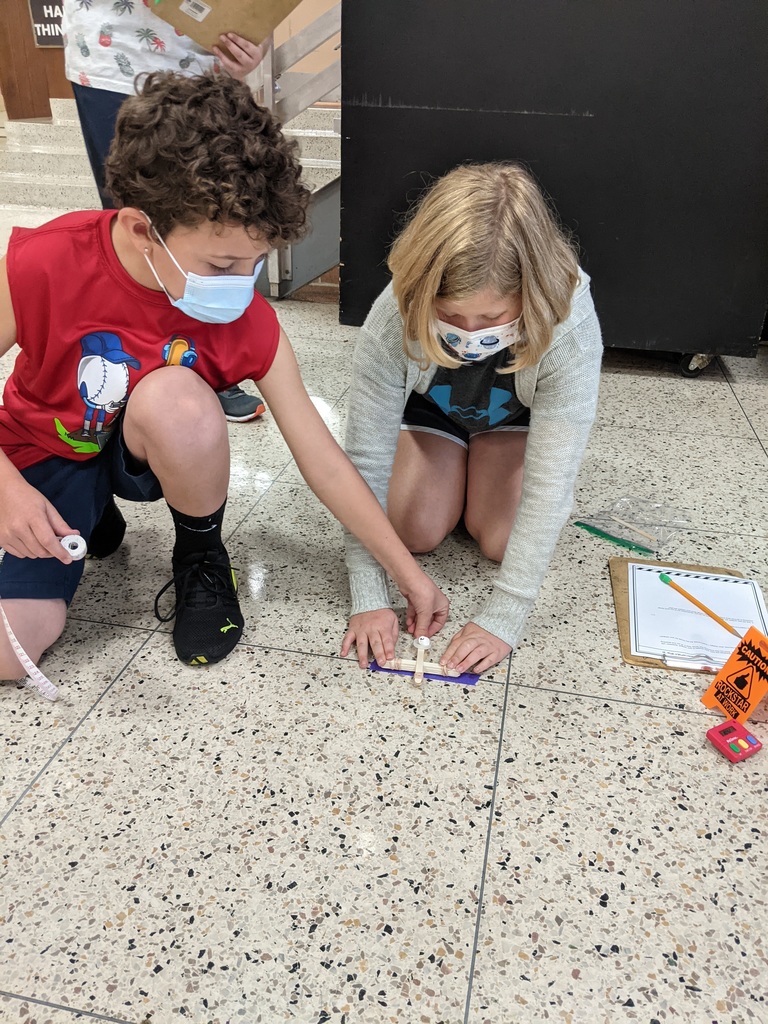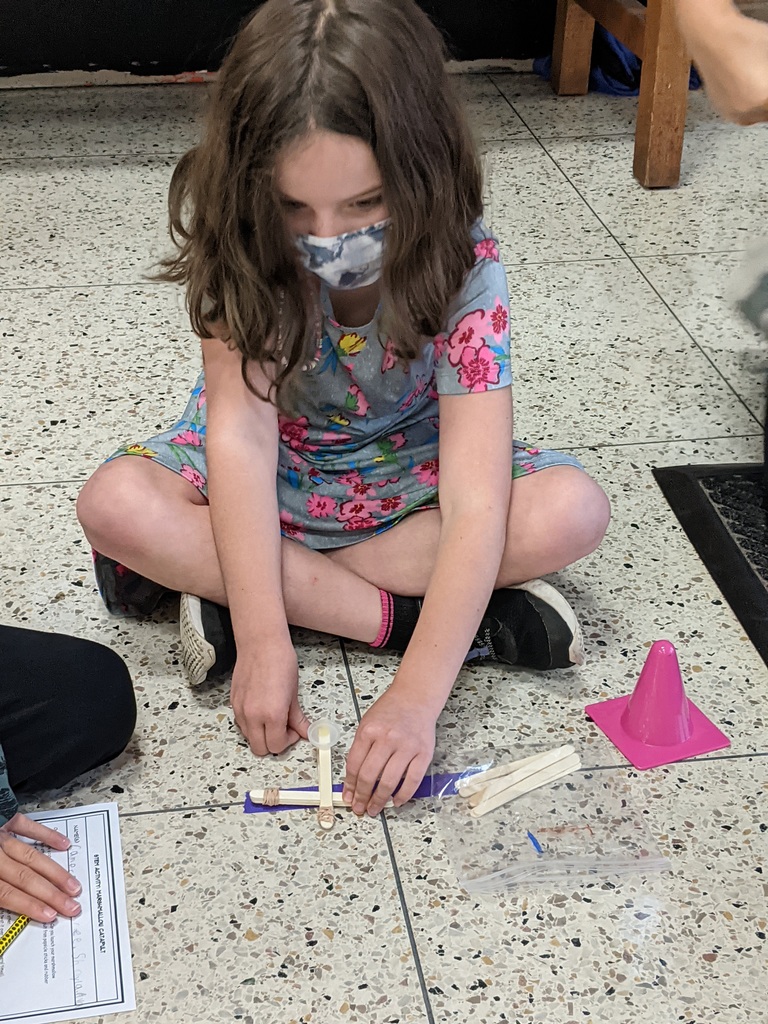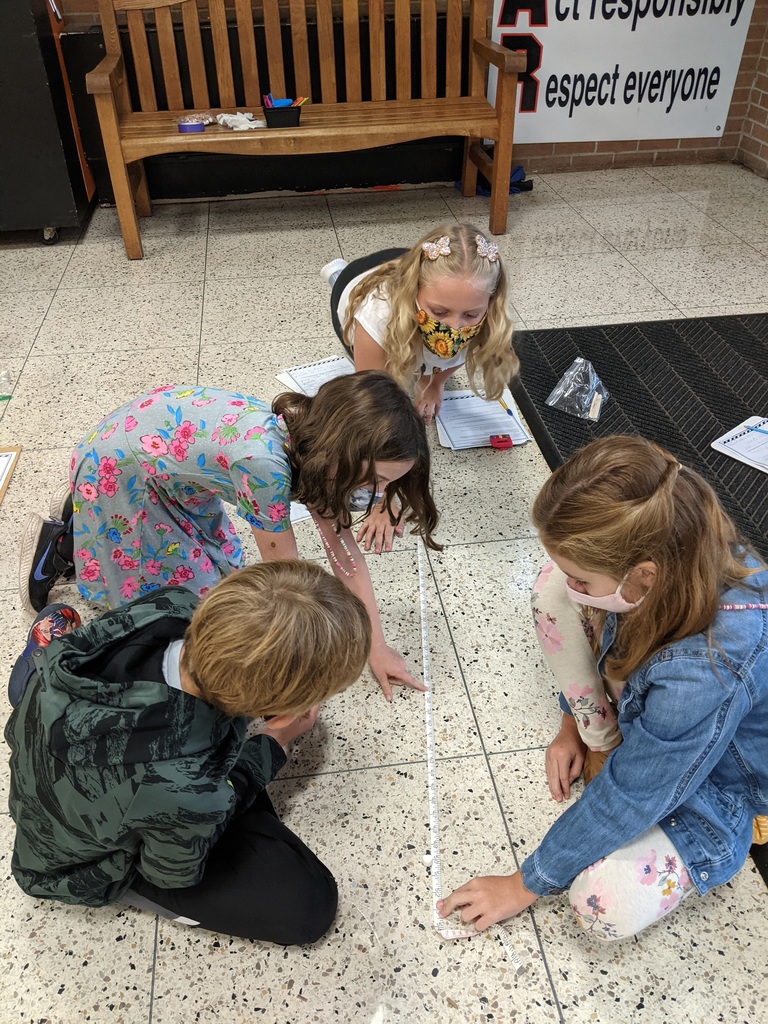 Fifth grade geographers in training used latitude and longitude coordinates to locate hidden review riddles while preparing for their geography quiz this week. Great job locating the fun in learning!