Please see attached correspondence outlining several decisions that we are announcing after the Governor's decision to close all K-12 schools around Ohio.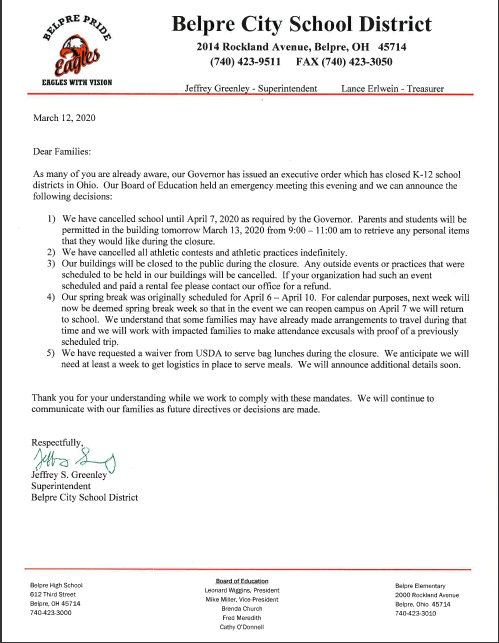 Yesterday county superintendents collaborated with health professionals from the City of Marietta/Belpre and the Washington County Health Department to produce the enclosed letter with additional guidance on what we are doing to keep students safe and what families can do to support that effort.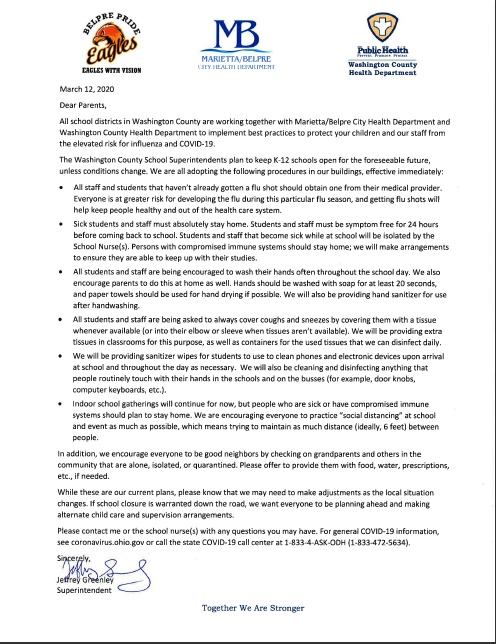 REMINDER: Thursday, March 12th is an Early Release Day at 1:00 p.m. and Parent/Teacher Conferences. Friday, March 13th is Records Day - NO SCHOOL.


On Thursday, April 2 at 7 p.m., Marietta Community Foundation and Peoples Bank Theatre will be hosting a one-night-only showing of "The Library That Dolly Built," a new documentary film about the beloved country music star and her efforts to increase literacy around the world through the Dolly Parton's Imagination Library program [DPIL]. DPIL is a book gifting program for children ages birth to five years old. Registered children receive one free, high-quality book in the mail each month aimed to increase their literary capacity. On the night of the event, for just $12.50 per ticket, Dolly fans will not only experience a night of entertainment, but they will also help support early childhood development for local Washington County children who wish to become registered. For more information please visit
www.peoplesbanktheatre.com/events
.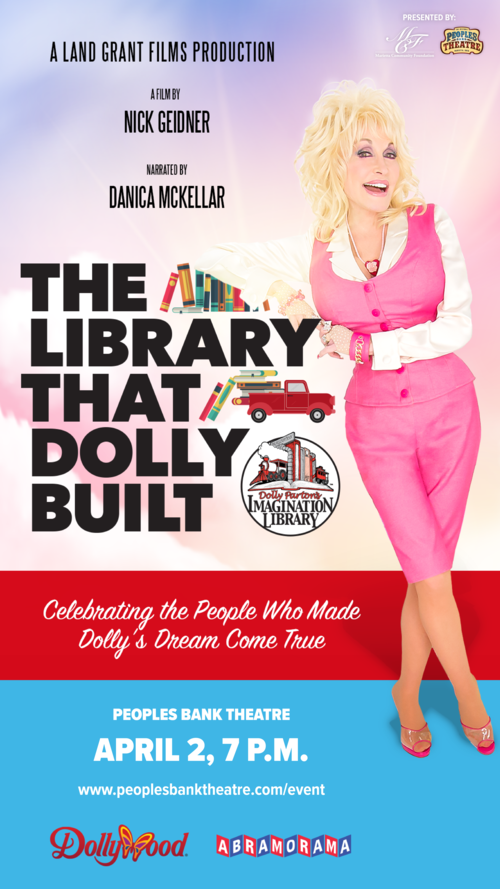 Thanks to all who came out Friday evening to paint! Artist, Sherry Bender, and the 6th grade team hosted a Paint Party as a fundraiser to help with the 6th grade field trip. It was an exciting night of friends, fun, and painting!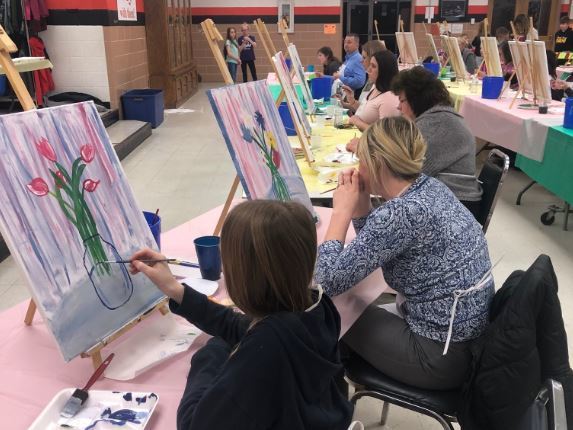 There will be a parent/student informational meeting for any student interested in participating in marching band for the upcoming school year on Monday, March 9th at 6:00 pm in the high school music room. There are some exciting changes for the upcoming season that we need to share with you. We will also be revealing the competition show for the upcoming season. We are looking forward to seeing you Monday evening!

Reminder: the PTO Meeting for tonight is cancelled, the next PTO Meeting will be April 2nd at 6pm in the PTO room.

Thank you the the Belpre Civitans for hosting our admin team to talk about the Portrait of a Graduate. We learned about #collaboration and how Important it is for our students to learn how to work together and solve problems. Groups like the Civitans keep our community strong and we are grateful for their support. You can join the Civitans for a meeting on the 1st and Third Tuesday of each month at Civitan Park.

Don't forget to join us tomorrow at Skate Country for Skate Night from 6:30 - 8:30 sponsored by the Belpre PTO. Admission is free and only $1.00 for skates!

Due to icy road conditions, Belpre City School District will be operating under a two-hour delay today, Friday February 28, 2020.

Please join us tonight at 6:15 at Jackson High School to see our Lady Eagles take on the #1 seed Notre Dame for the District Championship. You make us proud everyday ladies! It is the program's first trip to the championship since 1997.

There's still time! Join us until 10 at the Applebee's in Vienna for a delicious pancake breakfast this morning! Proceeds benefit the baseball and cross country teams.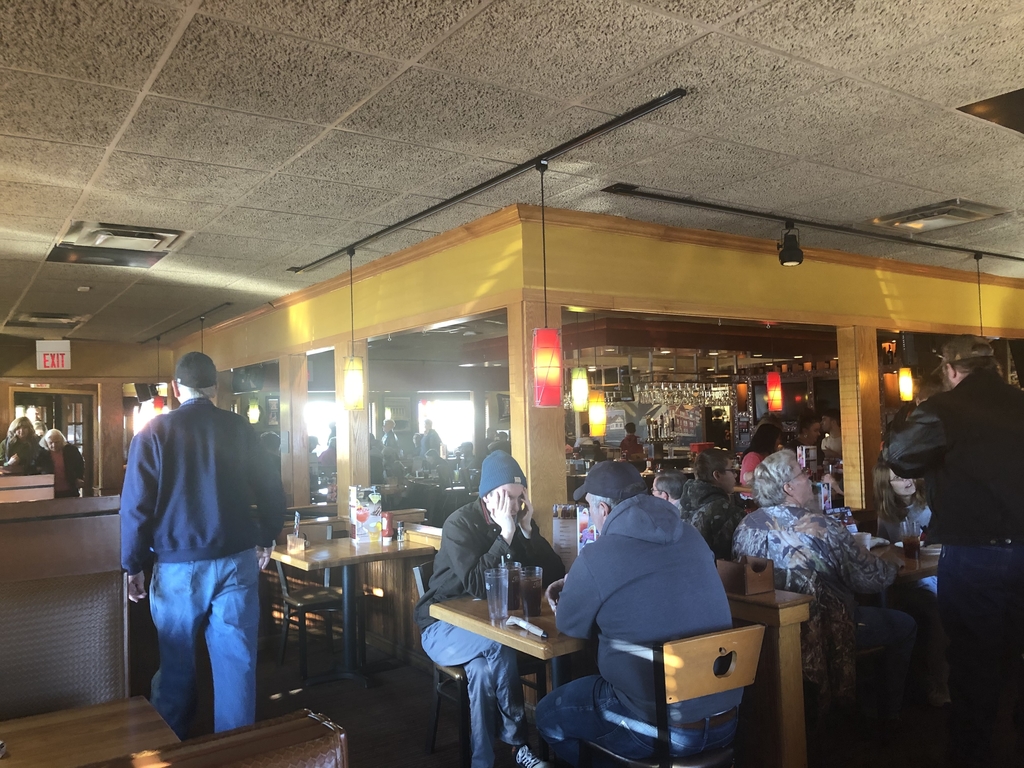 Belpre High School had two teams compete in the Marietta College PioBiz competition and they placed in 1st and 2nd places! Congratulations to Coach Debbie Edgar and her teams for their success! #collaboration #creativity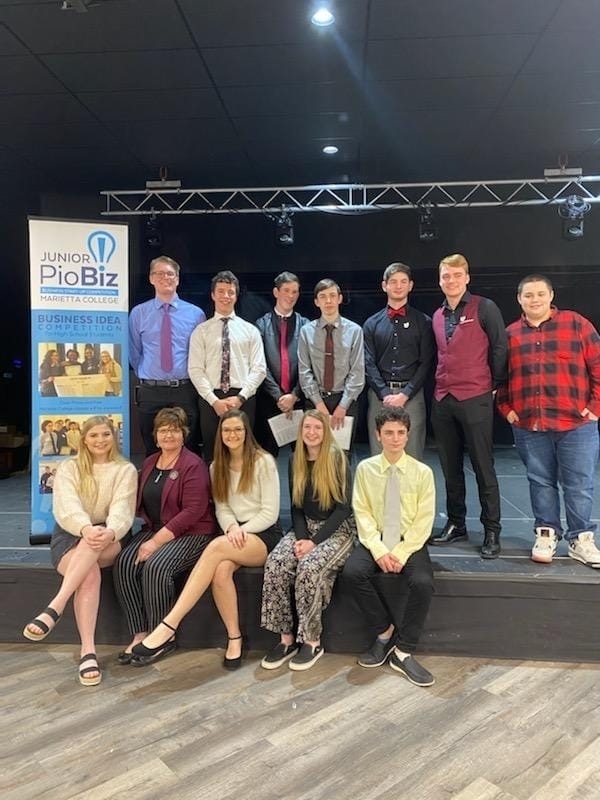 Congratulations to the Varsity Girls Basketball Team on their 44-30 win over Green in the District Semi-final! The Lady Eagles will play in the District Championship game vs Notre Dame on Thursday, February 27 at 6:15pm at Jackson High School. Get your pre-sale tickets at
https://ohsaa.org/tickets

Belpre Jr. High Baseball and Softball will hold sign ups at Belpre Elementary tonight February 19 and next Wednesday, February 26 from 6 - 8 in the cafeteria. If your child is interested in playing baseball, softball or t-ball please come and register your child or you can visit
www.belprejrbaseballsoftball.org
to register.

Join us for a Pancake Breakfast this Saturday, February 22 at the Applebee's of Vienna from 8:00 - 10:00. All proceeds support the Belpre High School Baseball and Cross Country Teams!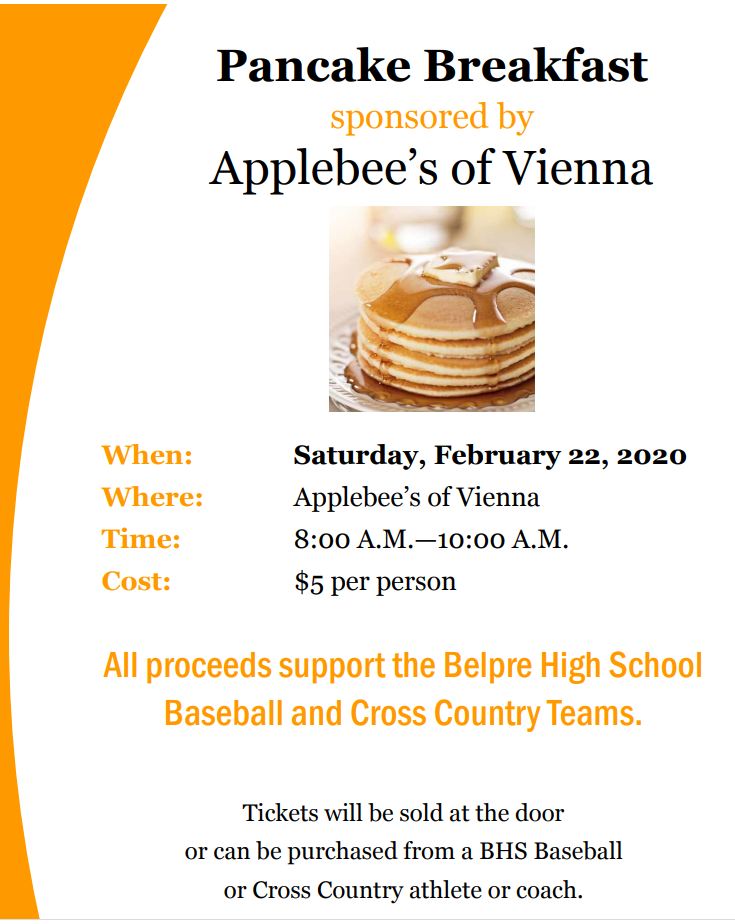 Lady Golden Eagles are SECTIONAL CHAMPIONS! 53-29 win over Eastern High School!

Catch up with the latest student stories, sports scores, and news updates. It's everything Belpre City Schools, in your pocket. If you haven't already, download the app on Android:
http://bit.ly/2nZygBN
or iPhone:
https://apple.co/2MtJKXx
.